WND Obama Derangement Syndrome, Malik Obama Edition
Topic: WorldNetDaily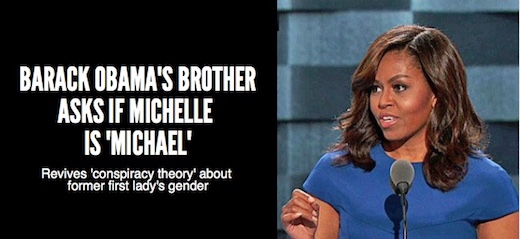 WorldNetDaily's lingering obsession with smearing President Obama and his wife with any desperate thing they can scrounge from right-wing sewers is beyond pathetic at this point. An anonymously written March 18 article states:
Malik Obama, a half-brother to Barack Obama, has been known to throw verbal bombs.

He's at it again.

This time he's wondering about Michelle Obama, Barack's wife.

Malik Obama, who once posted an image purporting to show a Kenyan birth certificate for his brother, asked "Is Michelle Michael?"

The American Mirror blog said it recalled a "conspiracy theory" that the former first lady is a man.
Needless to say, WND offers no proof to back up this conspiracy theory -- nor does it mention that Malik Obama apparently has a personal grudge against Barack and Michelle. As we've noted, Malik has previously teamed up with (or agreed to be exploited by) anti-Obama liar and charlatan filmmaker Joel Gilbert and "the world's worst journalist" Charles Johnson in an attempt to smear the former president. So Malik is more than just a bomb-thrower -- he's so filled with hate that he can't be trusted.
(Or he could just be trolling right-wing outlets like WND and the American Mirror because he knows they'll publish any Obama-bashing dreck he spews out.)
The fact that WND is also relying on the far-right American Mirror -- an untrustworthy source -- is another red flag as to just how desperate it is to smear. The article also noted the American Mirror's claim that "In 2017, Malik Obama tweeted an image of what appears to be Barack's birth certificate. Except it's not from Hawaii, but rather Kenya," but it didn't tell readers that the certificate was so obviously a fraud that eveb WND itself said so at the time (though it portrayed it as authentic when it first surfaced in 2009).
WND still doesn't seem to understand that its obsessive hatred of Obama destroyed what little trustworthiness it could claim, and pushing fake news and conspiracy theories -- many about Obama -- is one big reason why nobody believes WND and it remains close to going out of business.
Posted by Terry K. at 3:26 PM EDT