Acosta Derangement Syndrome Watch, MRC Edition
Topic: Media Research Center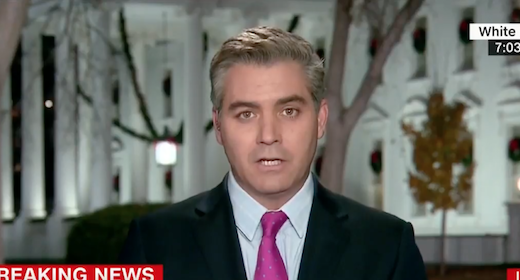 The Media Research Center is not satisfied with merely criticizing CNN's Jim Acosta (though it absolutely loves doing that); the MRC feels it must dunk on Acosta at every opportunity, and doubly so if he gets something not quite right.
For chief MRC Acosta-hater Curtis Houck, it wasn't enough for him to try and correct Acosta for something he thinks the reporter got wrong. He went into full insult mode in a Feb. 28 post, ranting that "carnival barker" Acosta "appeared in need of a safe space following President Trump's Hanoi press conference" because he noted that Trump gave relatively little attention to American reporters. Houck went on to huff:
Now, here's the facts. Along with New York Times national security correspondent David Sanger, here were at least six members of the White House press corps from American outlets that were called on: Major Garrett (CBS), Jonathan Karl (ABC), David Nakamura (The Washington Post), Ayesha Rascoe (NPR), John Roberts (Fox News), and Margaret Talev (Bloomberg).

To quote CNN's snarky motto: Facts First!
But Houck did not provide the total number of journalists Trump called on at the press conference, meaning he offers no context as to whether or not six American journalists is or is not a sufficient number relevant to the number of foreign journalists -- and, to Acosta's point, the number of foreign journalists working for state-run outlets in authoritarian countries like Russia and China -- that were called on.
Nevertheless, by the next day, the MRC's Tim Graham declared that Acosta's not-quite-proven-wrong statement was a "flat-out lie" -- apparently, Graham can read Acosta's mind now -- citing Houck's post to claim "Acosta was 'Pants on Fire' when he complained the White House press corps was ignored" (which was not what Acosta said). Graham went on to cheer right-wing Fox News host Laura Ingraham for taking shots at Acosta.
Houck, by the way, wasn't done insulting Acosta. The same day as the above rant, he unleashed another one complaining about "another long-winded, gloat-filled diatribe against the President" from Acosta and that "Acosta couldn't help but make a juvenile slap toward the President." Well, Houck knows all about making juvenile slaps, doesn't he?
Houck expressed his Acosta derangement once more in a March 11 post (under the leaden snark of a "Dear Diary" headline):
After what must have been an insanely painful 42 days for the White House press corps, Monday afternoon featured a White House press briefing and, needless to say, carnival barker, CNN chief White House correspondent, and infamous newsman Jim Acosta made sure to make this briefing count.

Acosta used his allotted two minutes as best he could, tussling with Press Secretary Sarah Sanders over the Democratic Party's issues with Jewish people and the President's rhetoric as a source of what ills America.

[...]

Afterward, on CNN Newsroom, Acosta uncorked another long-winded, uninterrupted lecture about his dismay for what comes out of the White House.
It's telling that Houck is more concerned that Houck is allowed to say anything at a White House press conference than the fact that the Trump administration went 42 days without holding one.
Posted by Terry K. at 10:57 AM EDT