CNS Unemployment Coverage Distortion Watch
Topic: CNSNews.com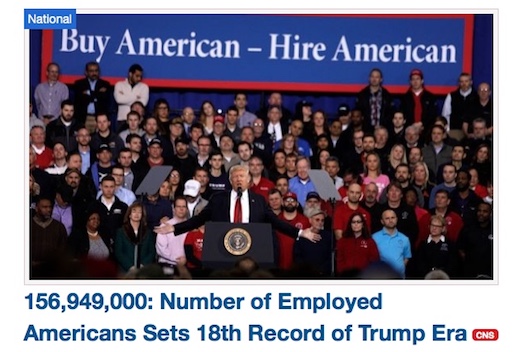 When President Obama was in office, CNSNews.com's editorial mission was to spin employment numbers by focusing on irrelevant metrics like labor force participation rate while downplaying how millions of jobs were created, with the goal of making Obama look as bad as possible. Under President Trump, it's the opposite: CNS gushes over Trump no matter how dubious the employment news.
So it is with February's employment numbers. Only 20,000 jobs were created, which is a dismal number. Susan Jones' main story did acknowledge that in her opening paragraph, then spins it away:
The economy added a meager 20,000 jobs in February, well below the 180,000 that analysts were expecting, and among the lowest job-creation numbers of the Trump administration.

But the number of employed Americans grew by 255,000 in February to a record 156,949,000, the 18th record-breaker of the Trump era.

The unemployment rate dropped to 3.8 percent from last month's 4.0 percent, the Bureau of Labor Statistics reported on Friday.

And the labor force participation rate stayed at last month's 63.2 percent, also a Trump-era high.
Needless to say, CNS didn't put that bad job-creation number in the headline, though it would have unquestionably done so if the president was a Democrat. Instead, the headline blared: "156,949,000: Number of Employed Americans Sets 18th Record of Trump Era."
CNS also served up its full complement of sidebars: Terry Jeffrey touting higher manufacturing jobs (though only a mere 4,000 were created) and lower government jobs (though tere was no drop at the federal level), and Craig Bannister highlighting lower Hispanic unemployment (since Hispanics are more politically exploitable for conservatives than blacks).
Posted by Terry K. at 9:35 AM EDT