CNS' Highly Biased Coverage of Cohen Testimony
Topic: CNSNews.com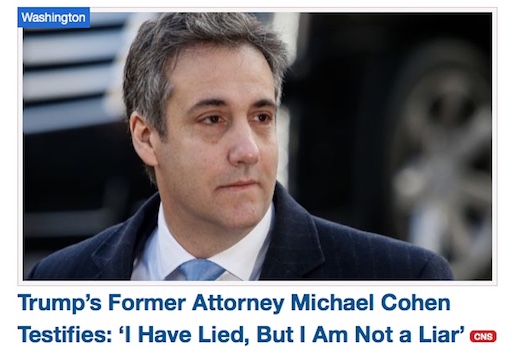 CNSNews.com's coverage of former Trump lawyer Michael Cohen's testimony before Congress was like a lot of its political coverage: highly biased.
CNS kicked things off with an article by Susan Jones touting Trump tweets trashing Cohen. It's not until the ninth paragraph that Jones gets around to noting that Cohen said in his written testimony that "Trump is a racist, a conman, and a cheat." That was joined by an anonymously written preview article taken from Cohen's advance written testimony that focused on he "says that he has lied but he is not a liar" -- and completely omitted Cohen's scathing criticism of Trump in that very same testimony. (A separate anonymous article addressed that; no reason was provided as to why they could not appear in the same article.) And it wasn't until Cohen's testimony before Congress actually started -- a full four hours after her first article posted -- that Jones got around to more fully summarizing Cohen's criticism of Trump in his written testimony, and it's framed as it usually is by Jones declaring that Cohen offered no "direct evidence" of collusion. (Jones wrout another article the next day highlighting Trump's tweeting that Cohen lied about everything except the "no collusion" part.)
CNS curiously cited no questioning of Cohen by Democratic representatives -- that would have been too fair and balanced -- but it did a full three stories on Republican Rep. Jim Jordan, among the CNS and the Media Rrsearch Center's favorite congressmen, haranguing Cohen:
Melanie Arter transcribed Jordan's rant against Cohen, calling him a "fraudster, cheat, convicted felon, and in two months a federal inmate."
Craig Bannister highlighted Jordan's complaint that "CNN obtained Cohen's statement and exhibits before the committee did."
Dimitri Simes gushed over how Jordan "pressed the former lawyer to President Donald Trump over his filing of five fraudulent tax returns and his failure to pay $1.4 million in taxes."
Jones also featured Republican Rep. Virginia Foxx badgering Cohen about whether he intends to "profit from his crimes through movie and book deals."
None of these articles addressed any of the claims Cohen made about Trump. Again, that would have been too fair and balanced.
The one bit of non-Cohen-related fireworks at the hearing -- Republican Rep. Mark Meadows trotting out a black Trump administration official to somehow counter Cohen's claim that Trump is racist, and Democratic Rep. Rashida Tlaib's calling out Meadows on the tokenism of that gesture -- got subdued coverage that managed to be about Tlaib and not Meadows.
Arter touted Meadow's stunt, and his insistence that "Lynne Patton, who served as vice president of the Eric Trump Foundation," somehow countered Cohen's point that there are no black executives in the Trump Organization (which is the name of Trump's business operations). An article the next day by Patrick Goodenough attacked Tlaib for having "'liked' a tweet that essentially described Meadows as an example of 'white privilege and white fragility.'" Goodenough did eventually offer an unusually even-handed recount of the dispute. Later that day, Bannister huffed that new CNS target Rep. Alexandria Ocasio-Cortez honored Tlaib's "bravery" in criticizing Meadows "for daring to allow an African-American colleague testify that President Donald Trump is not a racist."
(Actually, the woman, Lynne Patton, did not testify; she simply stood next to Meadows.)
Bannister then gave Patton her own article, citing a Fox News appearance (of course) in which she went on a self-aggrandizing, Trump-fluffing rant that Tlaib was taking "the word of a self-confessed perjurer and criminally convicted white man over a black female who is highly educated, rose up through the ranks of one of the most competitive companies in real estate, spoke before 25 million people at the Republican National Convention, and now works in one of the most historic administrations in history."
Bannister didn't mention that Patton is so dedicated to emulating Trump that she's trying to get a spot on a reality TV show.
Posted by Terry K. at 1:33 PM EST
Updated: Friday, March 8, 2019 2:01 PM EST