Newsmax Touts Shoddy, Conspiratorial Right-Wing 'Documentaries' As The 'Top'
Topic: Newsmax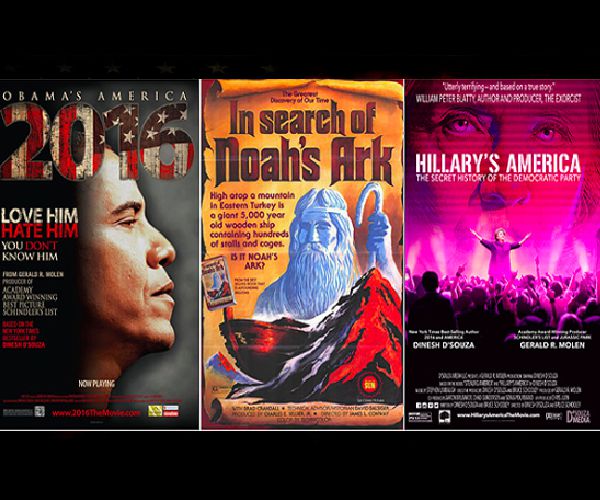 Troy Anderson begins an April 4 Newsmax article claiming to document "Newsmax's Top 25 Conservative Documentaries of All Time," which he claims "will give Newsmax readers a discerning guide to the highest-grossing and most impactful conservative documentaries." But some of the most prominent films on Newsmax's list are shoddy hack jobs designed to destroy, not enlighten.
For instance, No. 3 on the list is Dinesh D'Souza's anti-Obama attack film "2016: Obama's America." But a fact-check showed that the film's thesis -- that Obama was heavily influenced by his father's anti-colonial beliefs -- "is almost entirely subjective and a logical stretch at best." For instance, according to the fact-check: "In Hawaii, D'Souza asserts with no evidence, Obama sympathized with native Hawaiians who felt they had been marginalized by the American government when Hawaii was becoming a state. D'Souza also asserts — again with no evidence — that Obama had been coached to hold those views at Punahou, the prestigious prep school he attended in Honolulu."
No. 5 on the list is "The Clinton Chronicles," about which Anderson fawningly writes: "In this documentary film that grossed $10 million ($17 million in today's money), producer Patrick Matrisciana examined various alleged improprieties of former President Bill Clinton while he was serving as governor of Arkansas. The film is widely considered the turning point in the 1994 Republican Revolution." In fact, the conspiracy-laden film was "overflowing with demonstrably false accusations" and baselessly suggested that Bill Clinton had his enemies and critics murdered.
No. 8 is the Ben Stein film "Expelled," which according to Anderson "argues that the scientific establishment suppresses those who believe in intelligent design and that the contemporary evolutionary consensus is part of a 'scientific conspiracy to keep God out of the nation's laboratories and classrooms.'" But the film features a number of deceits, such as selectively quoting Charles Darwin to portray him as evil, and scientists who were lied to about appearing in the film.
Then again, factual accuracy was not a criterion for appearing on Newsmax's list -- the only criteria cited are "films that generated the highest box office totals and made a 'significant impact.'"
Newsmax doesn't explain why discredited films that peddle paranoia and hate are worthy of being elevated.
Posted by Terry K. at 4:20 PM EDT
Updated: Tuesday, April 24, 2018 4:21 PM EDT