Should Seth Rich's Parents Sue WND Too?
Topic: WorldNetDaily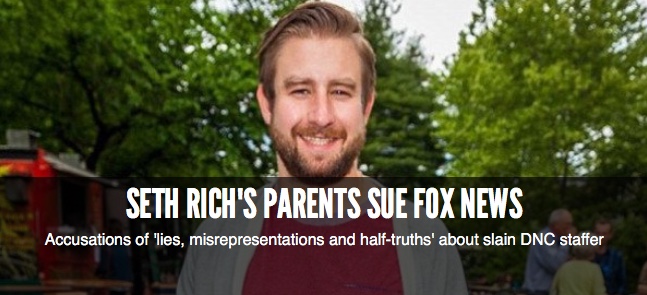 Surprisingly, WorldNetDaily did an article on how Seth Rich's parents are suing Fox News for cynically exploiting their son's death and turning it into a "political football" and promoting conspiracy theories about it. Less surprisingly, WND used the opportunity to rehash some of its favorite conspiracy theories about Rich.
The language has been temperred a bit, though; WND has been reduced to saying that "WikiLeaks founder Julian Assange appeared to suggest that Rich was one of his sources" and that "Pulitzer Prize-winning investigative journalist Seymour Hersh appeared to have dropped a bombshell in audio" (emphasis added).
As we've documented, WND's coverage of Rich has been nothing but cynical exploitation, so driven by its hatred of Hillary Clinton that it placed Rich on the so-called "Clinton Body Count"-- suggesting that the Clintons themselves played a role in Rich's death. It was so eager to smear with this story that it even enlisted notorious conspiracy-monger Liz Crokin -- who believes Pizzagate is real -- to write some of them.
So why isn't the Rich family suing WND? Mainly, it seems, because it mostly didn't try to ensnare Rich's parents in the conspiracy theories. The Riches are also suing Ed Butowsky, a right-wing financier who worked with Fox News in getting that story published and also foisted Rod Wheeler upon the Riches as a private investigator. (Plus, there's also the fact that WND is barely existing as it is and doesn't have much money to pay out in damages.)
Still, WND did try to co-opt the Rich family on its GoFundMe page to raise money to fund "investigative reporting resources" into finding Rich's killer but putting a blurb from Rich's brother, implying that the Riches had endorsed WND's efforts. By the way, the campaign has been up nine months now, and it still hasn't crossed the $5,000 threshold.
The threat of being called to account for its irresponsible reporting hasn't quite stopped WND from covering things related to Seth Rich, however. It has an article up about a bizarre incident in which conspiracy theorist Jack Burkman -- whose work in exploiting Rich's death WND has promoted -- was "shot at and run over by the former U.S. Marine he hired to help him get to the bottom of the case." Needless to say, WND didn't frame this as a clash between two conspiratorial losers fighting over a never-proven conspiracy theory, nor did it report, as an actual news outlet did, that police have not verified Burkman's account.
At this rate, WND may just earn that lawsuit after all.
Posted by Terry K. at 1:37 AM EDT