CNS Managing Editor Pushes Bogus Claim That Federal Money to Planned Parenthood Is 'Fungible'
Topic: CNSNews.com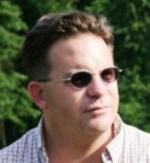 We've previously noted how CNSNews.com managing editor Michael W. Chapman complained that companies like Enterprise car rental were disassociating themselves from the National Rifle Association while donating to "groups that, in turn, either support abortion or send grants to Planned Parenthood, the largest abortion provider in the United States." Chapman also embraced a bogus claim in that same article:
Enterprise donated to dozens of organizations across the country. Among those organizations was the Susan G. Komen group, which is dedicated to fighting breast cancer. However, Komen itself donates hundreds of thousands of dollars to Planned Parenthood every year.

Komen claims that its grants to Planned Parenthood are for "breast cancer screening and outreach programs" and that it does not fund abortion. However, money is fungible. For instance, if in its budget Planned Parenthood had $100 allocated to do "breast cancer screening," and then Komen donated $100 to "breast cancer screening," it would free up $100 in Planned Parenthood's budget, which could be spent elsewhere.
Chapman provides no evidence to back up this claim. In fact, federal money to Planned Parenthood is by law prohibited from paying for abortions and pays for other services to women. Amanda Marcotte points out at Slate: "Republicans who tout the 'money is fungible' line want you to imagine that Planned Parenthood draws on one big pot of government money for all its services. But since medical services are billed and funded individually, that's not actually how this works. For instance, if subsidies that discount contraception disappear, the price of contraception goes up, but the price of abortion will stay the same."
Further, even if this fungibility argument were somehow factually proven, it would undermine federal funding to other private and faith-based groups. As the Guttmacher Institute notes: "If public funding for contraceptive services indirectly subsidizes abortion, then public funds going to organizations controlled by or affiliated with the Catholic hierarchy inevitably subsidize its inherently religious activities." And yet we never hear anyone complaining about that.
Posted by Terry K. at 9:27 PM EDT