CNS' Chapman Keeps Spreading the Anti-LGBT Hate
Topic: CNSNews.com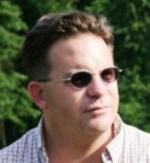 LGBT-hating CNSNews.com managing editor Michael W. Chapman just keeps spreading the gay-bashing on his website.
On Sept. 6, Chapman posted two articles -- by "liberal Camille Paglia" and "feminist Germaine Greer" -- critical of transgenders. CNS, however, has previously published conservative-friendly pronouncements by Paglia, including a previous attack on transgenders, which tells us she's not the "liberal" it claims she is. CNS has also published a previous attack on transgenders by Greer.
On Sept. 13, Chapman uncritically repeated a rant by anti-gay Rev. E.W. Jackson in which he asserted that the LGBT community "hates Christianity" and that gaywho "brag about their sin" are responsible for "all kinds of disorder and chaos and, yes, natural disasters and so forth."
Chapman then deliberately failed to get Chelsea Manning's name correct in a Sept. 14 article, referring to her as "Bradley 'Chelsea' Manning."Chapman did it again the next day, adding that Manning is "a former U.S. Army soldier who now identifies as a 'woman'."
Most media outlets identify transgender individuals to as they present themselves in public, but Chapman has decided he knows better than those biased, respectful journalists.
Posted by Terry K. at 6:31 PM EDT