WND Is Still Flogging The Trump-Prophecy Horse
Topic: WorldNetDaily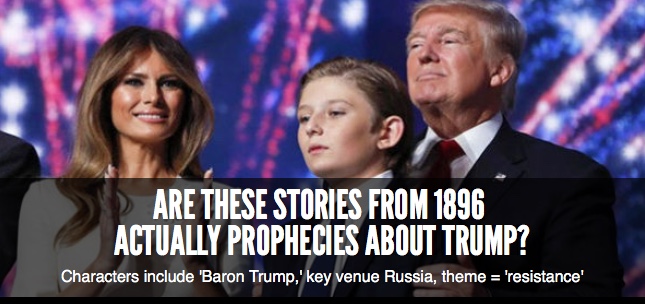 WorldNetDailiy takes its campaign to portray the election of Donald Trump as divinely ordained or otherwise prophesized to a new level in an anoymously written Aug. 7 article:
A 19th century American novelist's work is attracting more notice in 2017 than it did in his day because of striking similarities to current events.

Ingersoll Lockwood, an attorney and political writer, wrote several books, including children's stories featuring the name "Baron Trump."

Trump, an aristocratically wealthy young man living in Castle Trump, is the protagonist of Lockwood's first two fictional novels, "The Travels and Adventures of Little Baron Trump" and "His Wonderful Dog Bulgar and Baron Trump's Marvelous Underground Journey." The little boy, who has an unending imagination and "a very active brain," is bored with his luxurious lifestyle, so he visits Russia to embark on an extraordinary adventure with "the master of all masters," a man named Don. President Donald Trump's youngest son's name is "Barron."

Before leaving for Russia, Baron Trump is told his family's motto is: "The pathway to glory is strewn with pitfalls and dangers." In Russia, he is in search of the entrance to a pathway into alternative dimensions.

Ironically, Lockwood's final novel arrived in 1896, titled "The Last President."
Meanwhile, around this time in Barack Obama's presidency, WND was maliciously portraying him as the Antichrist. How times change.
Posted by Terry K. at 1:24 AM EDT