CNS Misleads, Cherry-Picks on Detroit Unemployment
Topic: CNSNews.com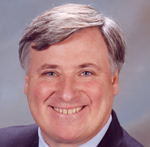 CNSNews.com editor in chief Terry Jeffrey cheerfully writes in an Aug. 2 article:
The unemployment rate plummeted in the Detroit metropolitan area over the past year, dropping more in the period from June 2016 to June 2017 than in any other large metropolitan area in the United States, according to data released today by the Bureau of Labor Statistics.

Last June, the Detroit metro area had an unemployment rate of 5.7 percent, according to BLS. This June, it was 3.7 percent--even as the local labor force increased.

As a consequence, the Detroit metropolitan area now has a lower unemployment rate than the Los Angeles, New York and Boston metropolitan areas.
The implication here, of course, is that President Trump is somehow responsible for all of this. Jeffrey, however, is cherry-picking his data.
The BLS data from which he he cherry-picked shows that the Detroit metro area's employment numbers are highly variable. While Jeffrey compares numbers fromJune 2016 and June 2017, which shows the most dramatic change, he conveniently omits the numbers from May 2017 -- when unemployment was slightly lower (3.6 percent) and the labor force was slightly bigger than in June.
Jeffrey also evades any mention of long-term employment trends in Detroit. An actual news organization reported that only about half of adults in the city are part of the active work force, the lowest of any big city in the U.S. Further, according to another actual news organization: "The Mackinac Center for Public Policy, a free-market-oriented research group in Midland, has said federal data also show that about two-thirds of the jobless drop in Detroit can be attributed to a smaller labor force -- that is, fewer Detroiters looking for jobs."
Further, Jeffrey's implicit praise for Trump for an unemployment drop over one year ignores that President Obama arguably deserves the same implicit credit for reducing Detroit's unemployment from well over 25 percent in 2009.
Jeffrey would never do that, of course, given his website's history of playing up negative jobless numbers throughout Obama's presidency.
Posted by Terry K. at 11:10 PM EDT
Updated: Thursday, August 10, 2017 11:47 PM EDT