WND Fakishly Calls Stories on Ark Encounter Tax Issues 'Fake News'
Topic: WorldNetDaily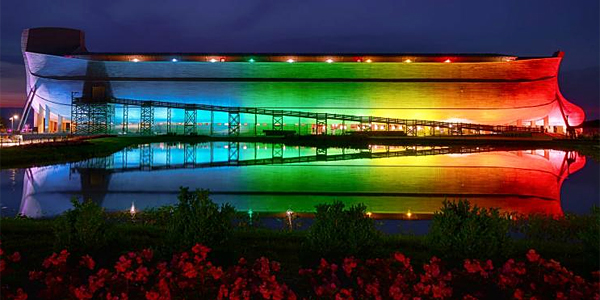 One of WorldNetDaily's favorite things to write about is the Ark Encounter, Ken Ham's attempt to indoctrinate people into creationism by building a museum in the shape of a full-sized ark. Last month, for example, WND touted (in an anonymously written article, of course) Ham's declaration that he would "take back the rainbow" from the gays by lighting the Ark Encounter in the colors of the rainbow.
In a July 29 article, WND's anonymous writer strikes again for the Ark Encounter, under the headline "As it was in the days of Noah ... Ark Encounter fights fake news":
A columnist who writes for Forbes has ridiculed a recent series headlines purporting to address a tax liability issue for the Christian Ark Encounter tourist attraction in Kentucky that features of replica, built according to biblical dimensions, of the Ark.

In fact, he notes that the Ark Encounter's complaint of unfair treatment in the media "might have some merit."

One headline cited by Forbes' columnist Peter J. Reilly said, "Ken Ham Sells Ark Encounter Land To Himself for $10 To Avoid Paying Taxes."

But Reilly said, "I don't see that as a fair characterization as to what happened."
At no point does the article itself repeat the headline's contention that the stories about the Ark Encounter were "fake news" -- perhaps because they weren't. The article admits that the basic facts are true: the Ark Encounter did sell itself to a related entity for $10 in an apparent attempt to excape paying a 50-cent-per-ticket safety tax in the town where the museum is located, then sold itself back when the tax stopped being an issue.
What's going on here is spin. Forbes columnist Reilly -- whose column WND curiously does not link to -- relies heavily on repeating the Ark Encounter's side of the story, going so far as to reprint its entire statement on the issue. Reilly didn't talk to any city offical, and neither did WND.
In other words, there's no "fake news" going on here, just WND serving as compliant stenographers for a favored source. Pretty ironic considering how much actual fake news WND publishes.
Posted by Terry K. at 1:40 AM EDT