WND's Resident Anti-Kinsey Obsessive Attacks Rockefeller
Topic: WorldNetDaily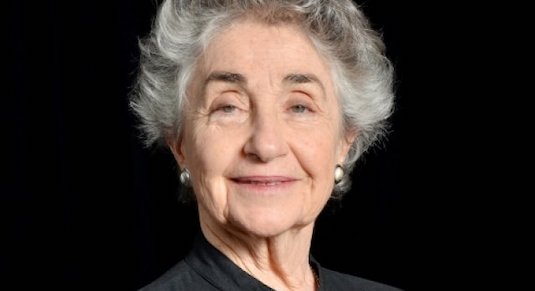 WorldNetDaily, it seems, is not done saying weird things about the death of David Rockefeller.
Discredited anti-Kinsey obsessive Judith Reisman devoted her March 29 WND column to attacking Rockefeller for giving money from his family's foundation to "the father of the sexual revolution, Dr. Alfred Kinsey of Indiana University's Kinsey Institute, and Margaret Sanger, the founder of abortion-on-demand and population-control agent Planned Parenthood." She went on to rant:
The Rockefeller Foundation was a major funding source for pedophile Kinsey. In his 1948 book, "Sexual Behavior in the Human Male," Kinsey naturally claimed proof that children are sexual from birth and unharmed by sex with adults. He even showed his "proof" on five tables timing the alleged "orgasms" from serial sexual abuse and rapes of children as young as 2 months old. (The babies and children screamed, fainted and/or convulsed during the abuse; Kinsey, an S&M bi-homosexual pedophile, called these reactions "orgasms.")

Buoyed by a Rockefeller Foundation financed media tsunami and a respected scientific publisher, Kinsey's child-rape "data" were accepted as "scientific" evidence of the "true sex lives" American adults and children. Kinsey's "fake science" was and is today taught as factual data in law and in "higher" education.

Kinsey's book launched the pornography industry in 1954 via Hefner's Playboy, prompted a wholesale revision of our sex offense laws through the 1955 Model Penal Code, called "virtually a Kinsey document," legalized mass abortion and same-sex sodomy, and spawning our pedophilia and child porno-crime epidemics.
As we've pointed out, Reisman's accusations that Kinsey conducted sexual experiments on children to get that data on sexual response has been discredited.
Reisman also gets stuff wrong about the Model Penal Code. It actually wasn't approved until 1962; the only thing that came out in 1955 were two drafts, out of 13 issued between 1953 and 1961.
We have to go to a 2003 Human Events article to find out what the heck her deal is with the Model Penal Code: that it sought to stop the criminalization of private, consensual sexual behavior. Also, she's upset that the code's authors "quoted Kinsey's junk science in order to overthrow the Judeo-Christian sexual morality of The Greatest Generation and replace it with Kinsey's ideology of sexual anarchy."
Reisman concluded by ranting:
Rockefeller Foundation's sponsorship of Kinsey's child rape-based sexual freedom agenda and its domino effect on law, society and culture, our modern child porno-criminal, pedophile and trafficking epidemics, and the eugenics-based work of Planned Parenthood, which justifies killing millions of unborn children, has certainly proven the truth of Justice Brandeis predictions.

David Rockefeller's contribution to this bloody, destructive legacy must never be forgotten.
Meanwhile, Reisman's legacy is all about trying to falsely smear Kinsey.
Posted by Terry K. at 12:51 AM EDT