WND Spins Election Results To Bury Trump's Vote Loss
Topic: WorldNetDaily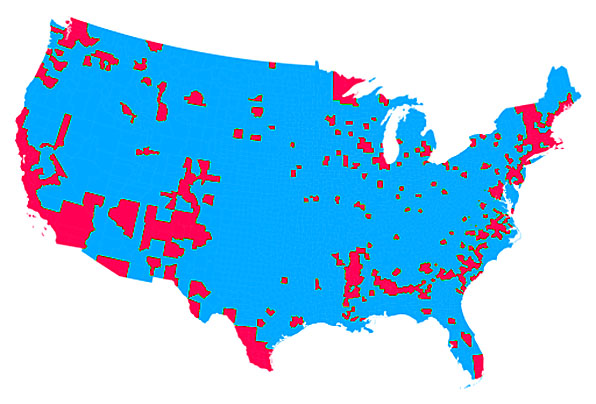 Remember after the 2000 election, when the ConWeb (for example, then-Newsmax columnist Neal Boortz) found different ways of viewing the election -- voting by county, voting by square miles, etc. -- to obscure the inconvenient fact that Al Gore got more votes than George W. Bush did? (And which quickly devolved into fake-news territory that Newsmax also treated as fact?)
Well, it's happening again, this time at WorldNetDaily, with a similar goal: to obscure the inconvenient fact that Hillary Clinton got more votes than Donald Trump.
A Dec. 17 WND item copies-and-pastes an article from the right-wing Investor's Business Daily saying that Donald Trump won if you ignore the most populous state in the country:
As we noted in this space earlier, while Clinton's overall margin looks large and impressive, it is due to Clinton's huge margin of victory in one state — California — where she got a whopping 4.3 million more votes than Trump.

California is the only state, in fact, where Clinton's margin of victory was bigger than President Obama's in 2012 — 61.5% vs. Obama's 60%.

But California is the exception that proves the true genius of the Electoral College — which was designed to prevent regional candidates from dominating national elections.
WND followed up with a Dec. 25 article by Bob Unruh dragging out the ol' county vote, asserting that "Trump won 30 out of 50 states, and 2,623 counties, to Clinton's 20 states or 489 counties."
Unruh went on to declare that "The 2016 results really reveal that America has become two different nations: far left metropolitan and urban areas and much more conservative regions of small cities, towns and rural areas." He added a map of the county-by-county vote -- putting Trump's counties in blue, per the petulant dictate of WND editor Joseph Farah -- because "The impact is never so strong as in a visual image."
Unstated by Unruh: Counties don't vote for president, people do.
Posted by Terry K. at 12:27 AM EST