WND Petulantly Swaps Colors On Election Map, Because Dems Should Be Red
Topic: WorldNetDaily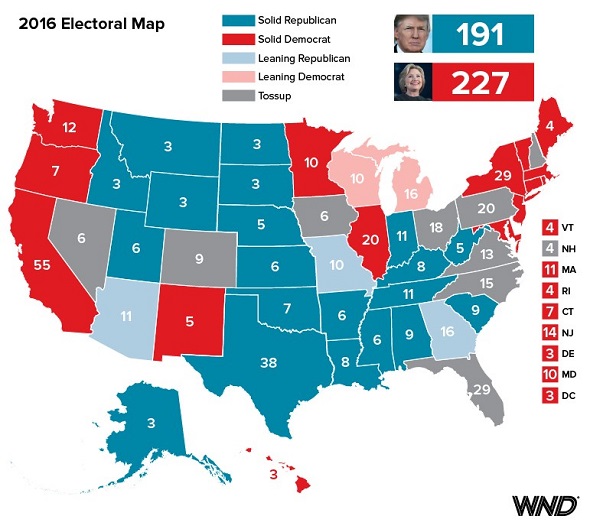 Bob Unruh is the mouthpiece for this bit of WorldNetDaily petulance in a Nov. 5 article:
Call it the electoral map color counter-coup.

There once was a day when Democrats were red and Republicans were blue.

WND thinks that was apt, and, beginning today, it will be reflected in the 2016 electoral map at the oldest independent online news source.

That, of course, is exactly the opposite of what the rest of the media do in lockstep – from television stations to networks to the printed pages and even the bloggers.

But WND is resisting the change to what the New York Times called the "international tradition" and will have the Republican states on election night 2016 represented in blue, and the left, liberal or progressives – the Democrats – in red.

WND founder and CEO Joseph Farah has written about the issue several times, including during the 2012 election.

The fact that media outlets are using blue to represent leftists, he said, "Illustrates how the Democrats have their way with the media – every time."

[...]

WND's Joseph Farah wrote, outlining the problem, "Folks like me, old enough to remember when red states meant Democrat and blue states meant Republican, probably still get confused from time to time about the terminology."

He ascribed the abrupt reversal, as reported by the Washington Post, to "the late Tim Russert, a respected television interviewer, but one who worked formerly for Democratic Sen. Daniel Patrick, Moynihan of New York."

"The former system made more sense and was deliberately changed by media partisans who didn't like to suggest Democrats should be associated with the color red."

[...]

So for 2016, as with 2008 and 2012, WND "will stand apart and refuse to use the 'red-state-blue-state' paradigm in news coverage because it will not be a part of the obvious manipulation behind it," he confirmed.

"Words mean things. Symbols, too, have meaning. Why is it that I get confused about what someone means when they say, for instance, 'California is a blue state and Texas is red.' I get confused because it makes no sense! I don't think I'm alone. I would propose to you that most people my age or older feel the same way. We all know California is red and Texas is blue. That makes sense."
You'd think Farah would have gibber things to worry about -- like, say, the fact that his website has no credibility -- than the colors on an election map. And its not a "color counter-coup," it's a color choice driven by petulance.
And Farah wonders why WND is going down the tubes.
Posted by Terry K. at 3:39 PM EST