WND Already Trying to Falsely Race-Bait Over Dallas Shooting
Topic: WorldNetDaily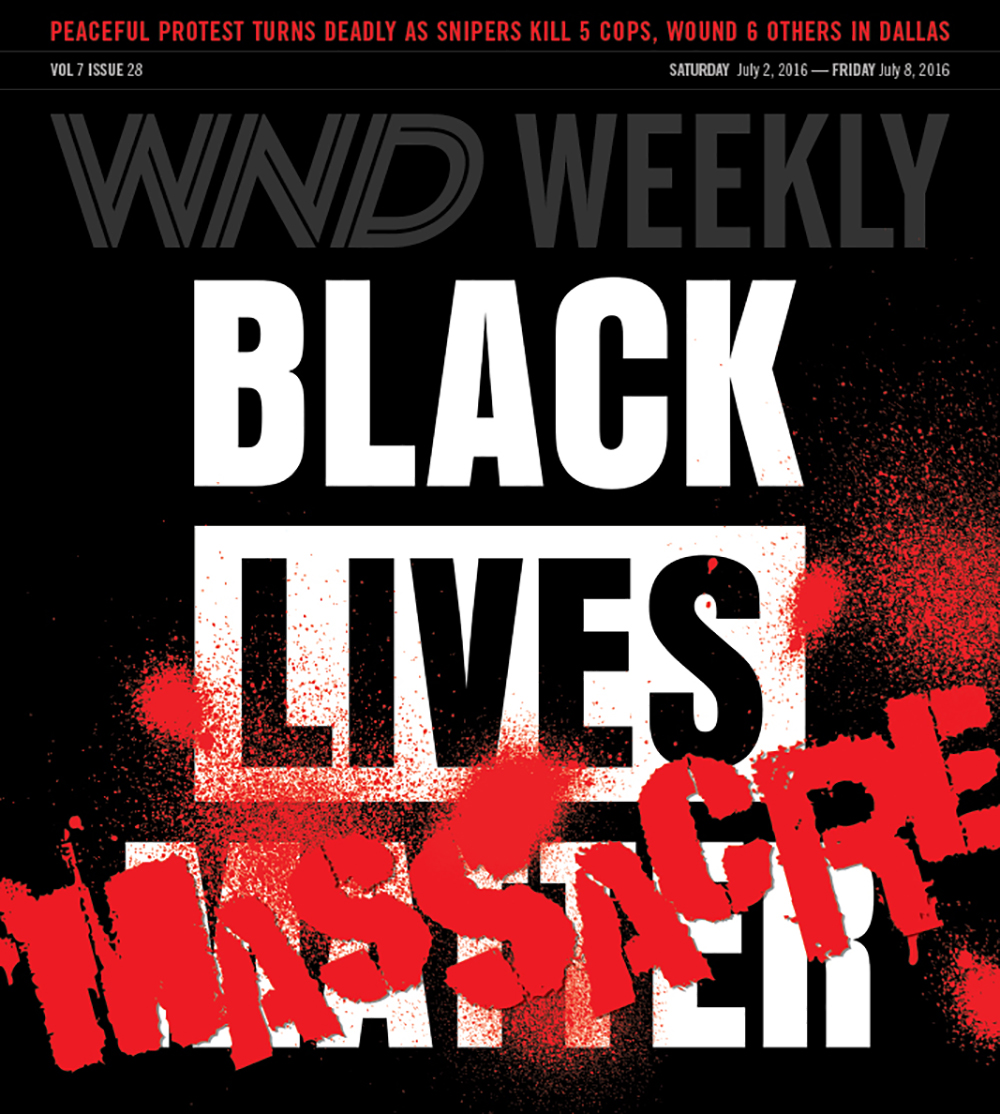 Never let a crisis go to waste, they say, and WorldNetDaily is trying to do exactly that over the sniper shootings of police officers in Dallas.
The cover of this week's WND Weekly -- a digital compilation of free WND articles that WND is trying to make people buy -- screams "BLACK LIVES MASSACRE."
This was joined by that old WND standby, stenography of whatever Rush Limbaugh is saying. This time, Garth Kant gets the honors:
One of the nation's leading experts on law enforcement and race sees a cause and effect relationship between the president's rhetoric and the murder of five police officers in Dallas.

"President Obama lied to the nation last night, and he embraced the Black Lives Matter myth that there is a racist war by white officers against black civilians in this country. And we see the results," Heather McDonald told Rush Limbaugh on his radio program Friday.

"It is simply not the case that the police are disproportionately shooting black males when you take violent crime into account," she asserted. "And for President Obama to give that movement any credibility when it is now threatening law and order itself, we are at risk of attacking the very foundation of civilization if this type of hatred continues."

Obama welcomed leaders of Black Lives Matter to the White House in February. Limbaugh recalled how the president praised them and their efforts, saying they were "much better organizers than I was when I was their age."

"And Black Lives Matter was exactly who they are then as who they are today," Limbaugh observed. "They're a terrorist group. They're quickly becoming a terrorist group committing hate crimes. And the attorney general today is saying that she's going to look into this, investigate this as a hate crime."
Just one problem with all of this fearmongering over Black Lives Matter in the Dallas shootings: it's not true.
News reports state that the shooter, Micah Johnson, has no affiliation whatsoever with Black Lives Matter or any other organized group; he was a loner who followed black militant groups (of which Black Lives Matter is not one) on social media and amassed an arsenal of weapons in his home.
But then, when has the truth ever mattered to WND? No wonder it has no credibility.
Posted by Terry K. at 12:29 AM EDT