WND's Facebook Fail
Topic: WorldNetDaily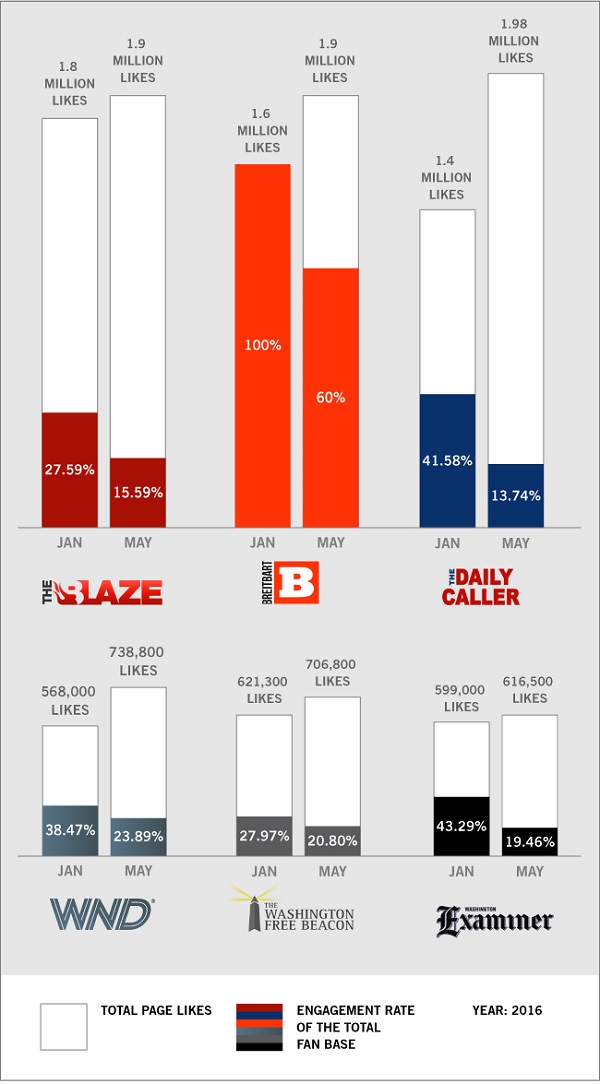 It was inevitable that WorldNetDaily would try to insert itself into the controversy over alleged bias at Facebook. And that it does, in the most ham-fisted, dishonest way.
An unbylined May 15 WND article is headlined "Facebook bias: It's baked into the algorithms." It claims: "A four-month WND study of Facebook traffic and engagement patterns of prominent alternative news sites with a more 'conservative' perspective confirms recent charges that the social-media giant actually ignores its own rules and guidelines at the expense of these online enterprises."
No, WND didn't actually study the issue for four months; what it actually did was "compiled a sample-size of four months of data" on engagement "using data provided by Facebook itself to page managers (Facebook.com/WNDNews) in its insights tab, and tracked several news sites through the Pages to Watch feature since the start of 2016." It claims that the data it compiled shows "how engagement for those news sites had seen significant drops in engagement, seemingly supporting accusations by former Facebook employees of internal newsfeed tampering."
Except that it doesn't. The place on Facebook where bias was alleged was the "trending topics" section, not the posts made by news organizations themselves, which is apparently what WND counted -- in other words, it's an apples-and-oranges comparison. WND also provides no evidence that the decline in engagement it documented has anything to do with "algorithms" or anything else at Facebook. Additionally, WND failed to compare the date with engagement rates from liberal news sites, which you'd think would a mopre apt comparison than its fellow right-wing sites. And it apparently failed to account for whether any of the websites it monitored ran marketing campaigns on Facebook to promote their content -- after all, promoted copy to people outside their followers would seemingly skew engagement rates.
Further, WND apparently posted data only for the first and last day of its comparison; the bars represent "the end of January" and "May 9, 2016," and doesn't display any of the data in between that might better demonstrate the persistent decline in engagement it claims took place.
If anything, WND's data proves how terrible its engagement on Facebook is, especially compared to those other right-wing sites. According to the data, Breitbart.com is through the roof, displaying 100% engagement in January and 60% engagement in May. By contrast, WND was a 38.47% in January and 23.89% in May. WND can take a little solace in the apparent fact that The Blaze, the Daily Caller and the Washington Examiner had even lower engagement rates in May.
WND's data dive proves nothing, since it's so incomplete and irrelevant to the issue at hand. And it completely ignores the fact that WND's utter lack of credibility -- which this shoddy data only perpetuates -- may very well be a major factor in the lack of Facebook engagement it laments.
Posted by Terry K. at 12:25 AM EDT