Black WND Columnist Tells Blacks To 'Get Over Their Blackness'
Topic: WorldNetDaily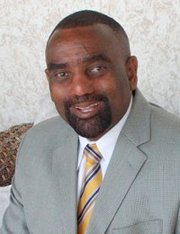 Jesse Lee Peterson has gone full Mychal Massie, exercising his black conservative privilege of saying things that would be considered horribly racist if he was white. Peterson rants in his Feb. 1 WorldNetDaily column:
Black History Month is dumb. And it provides no value for black Americans or anyone else.

In reality, black history is American history, and any attempt to detach the two separates blacks from their country and empowers useless black "leaders."

Instead of celebrating Black History Month, I challenge black Americans to get over their "blackness" and start building character this month!

Over the past 50 years, blacks have been seduced away from character and truth. Their "leaders" have convinced them that their struggle is a physical battle with whites and that America is a racist nation. The truth is that there is good and bad in every race, and every human being is engaged in a spiritual battle of good versus evil.

Blacks in the United States are the freest and wealthiest group of blacks anywhere. If black America were a country, it would be the 15th wealthiest nation in the world.

Blacks who are caught up with their skin color and think they need a Black History Month foolishly believe they are righting past wrongs. The sad truth is that they're wasting their time and building false pride.

[...]

Focusing on color is a losing proposition. The obsession with race leads to anger, blame and bitterness, which ultimately destroys people. The time and energy wasted on hatred leaves little time and energy for productive living; whereas building a life based on character and love will help one succeed in life.

Focusing on color over character gave us Barack Obama – the worst president in U.S. history.
Of course, if Peterson has truly gotten over his blackness, he wouldn't be saying such things. Instead, he does, knowing he would be treated differently than if he wasn't black.
And a man who has issues with women thinks he an tell others to "start building character"? Please. He needs to get over his female issues before he has any moral standing to lecture others.
Posted by Terry K. at 8:02 PM EST