WND Defends George Will's Trivializing Of Sexual Assault
Topic: WorldNetDaily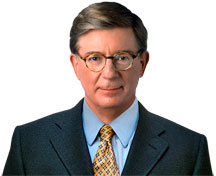 Even when WorldNetDaily is defending someone, it has trouble getting its facts straight.
Leo Hohmann uses a June 23 WND article to paint columnist Gedorge Will as a victim of the "though police" for writing about sexual assault on college campuses:
In his column, Will said he didn't trust the government's statistics that "1 in 5″ college women get raped, nor did he trust that all of the reported assaults were in fact rapes because of the heavy drinking and the "ambiguities of the hookup culture" on display nightly at many campuses.

Will said universities, under pressure from the U.S. Department of Education, often deny young men accused of rape the basic due process found in the regular court system. He also implied that being a college rape victim was becoming a "coveted status that confers privileges."

One major newspaper, the St. Louis Post Dispatch, reacted by pulling Will's column from its editorial page and replacing it with that of former George W. Bush speechwriter Michael Gerson, who is from St. Louis and more in line with the newspaper's ideas of what a conservative should be.
Hohmann gets an important thing wrong. The government has never claimed that 1 in 5 college women "get raped"; it claimed that they experience a sexual assault, which covers not only rape but attempted sexual assault and forced sexual contact.
Hohmann also downplays Will's claim that being a victim on a college campus was becoming a "coveted status" by claiming he merely "implied" it. Actually, Will's statement was made in a very straightforward manner.
An unbylined June 29 article tried to up the ante, copying-and-pasting Hohmann's error that the government claims that 1 in 5 college women "get raped," then segues into promotion for Todd Akin's upcoming WND-published book and another failed attempt to insist that Akin was right to claim that women routinely lie about being raped and that even if they do suffer a "legitimate rape," they have a biological mechanism to "shut that whole thing down." WND continues to pretend that long-term stress that inhibits fertilitity is the same thing as the sudden trauma of being rape.
Perhaps portraying women as inveterate liars about sexual assault isn't the most effective way to promote a book or defend a columnist.
Posted by Terry K. at 12:40 AM EDT
Updated: Tuesday, July 1, 2014 12:42 AM EDT