AIM's Kincaid Just Can't Stop Lying About Panetta
Topic: Accuracy in Media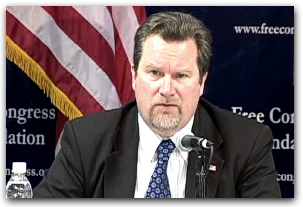 Cliff Kincaid devotes a June 26 Accuracy in Media column to decrying the fact that former secretary of defense Leon Panetta is receiving an award named after Ronald Reagan.
In addition to his anti-defense record, Panetta had a relationship with Communist Party figure Hugh DeLacy, who had ties to Soviet and Chinese intelligence operatives. It was never clear if Senate investigators or the FBI, or both, investigated Panetta's background.

DeLacy was one of only two congressmen exposed as a member of the Moscow-funded Communist Party.
Kincaid's attack is completely false. As we previously noted, Media Matters has documented how the correspondence between Panetta and DeLay occurred when Panetta was a congressman, and the "relationship" was nothing more than that of a congressman and a constituent.
That shoots a major hole in Kincaid's attempt to smear Panetta as a secret commie -- but Kincaid doesn't want to admit the truth.
Posted by Terry K. at 3:19 PM EDT