CNS Equates Gays With Satanists
Topic: CNSNews.com
The Media Research Center has an anti-gay agenda, so why wouldn't its "news" division try to portray gays as satanists? That's exactly what CNS managing editor Michael Chapman does in a June 11 article headlined "Satanic Temple: Gay Marriage is 'a Sacrament'":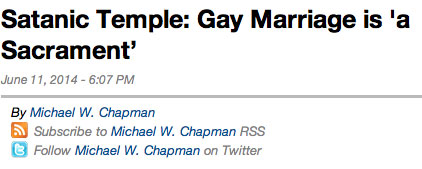 While Chapman goes on to admit that the Satanic Temple considers heterosexual marriage to be as much of a sacrament as gay marriage, much of the article is given over to "why TST focuses on gay rights." It's clear that the only reason this article exists is for Chapman to liken homosexuality to satanism.
After all, CNS is part of an organization with an anti-gay agenda, so of course Chapman would do this.
Posted by Terry K. at 3:17 PM EDT