Conservative Media Criticism, Tim Graham Edition
Topic: NewsBusters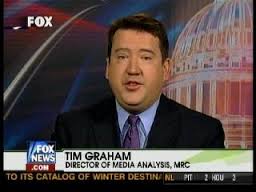 Tim Graham huffs in a June 19 NewsBusters post:
The liberal St. Louis Post-Dispatch has bowed to the "Fire George Will" folks and discontinued his syndicated column after he wrote about liberal universities now being pressed to stem an alleged tide of campus sexual assault. They're switching to big-government conservative Michael Gerson, the former chief speechwriter to President George W. Bush.
Gotta love all the unsupported assertions in that paragraph. How does Graham know the Post-Dispatch is liberal? Does the fact that it published Will and will publish Gerson suggest otherwise?
Graham's assertion that Will's column targeted "liberal universities" (how does Graham know those universities are liberal?) over "an alleged tide of campus sexual assault" glosses over the offending claim Will made: that being a sexual assault victim is somehow a "coveted status."
Finally, Graham whines that Gerson is a "big-government conservative" with, yes, no supporting evidence nor an explanation of how Gerson's purported view is any different from Will's.
Conservative media criticism, ladies and gentlemen.
Posted by Terry K. at 11:09 PM EDT