MRC Unhappy Media Acknowledges Anti-Abortion Protesters Can Be Violent
Topic: Media Research Center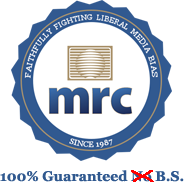 Kyle Drennen complains in a June 27 Media Research Center item:
Despite Thursday's unanimous Supreme Court ruling that so-called "buffer zones" banning pro-life protests near abortion clinics was a violation of the First Amendment, all three network evening newscasts hyped assertions by abortion advocates that such unconstitutional measures "prevent violence at clinic entrances."
Drennen offered no evidence that the networks' reporting that anti-abortion protesters can be violent, beyond dismissing the idea as "NARAL spin."
Of course, people like George Tiller and Barnett Slepian would dispute that anti-abortion violence is "spin." If they could, that is.
Posted by Terry K. at 9:19 PM EDT