Bozell Knows Fox News Won't Question Him About Having A Ghostwriter
Topic: Media Research Center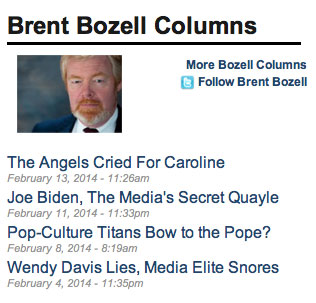 Rather than publicly discuss his ghostwriting scandal, Brent Bozell went to the one place he knows he will never be forced to talk about it: Fox News.
Bozell appeared on Fox on Feb. 17 to rant about coverage of climate change on Sunday talk shows. Bozell did the same thing on Fox Business' "Varney & Co." on Feb. 18. The fact that his syndicated columns have been ghostwritten for years by MRC subordinate Tim Graham was apparently not discussed.
While Bozell and the MRC continue their radio silence on the scandal, the fallout is real and ongoing. Iowa's Quad City Times newspaper dropped Bozell's column, stating: "Bozell may have been comfortable representing others' work as his own. We're not." Journalist David Cay Johnston has also weighed in:
The URL and title at his own Media Research Center page show that Bozell is a fraud: "Bozell's column."

[...]

Without an intellectual crucible fired by actual conservatism we will continue to get weak solutions to our festering problems.

And so we get Bozell's shtick — accusing all journalists of mendacity unless they share his perspective. To Bozell there is no competitive marketplace of journalism, only a monolith of monstrous liars. As it turns out, there is a paid liar in the news media – Bozell.

Accepting accolades and a byline for work you did not do is dishonest. There's no moral relativism here. It is wrong.
We suspect Bozell won't be commenting on this, either.
Posted by Terry K. at 1:29 PM EST