Busted! MRC's Graham Revealed As Brent Bozell's Long-Suffering Ghostwriter
Topic: Media Research Center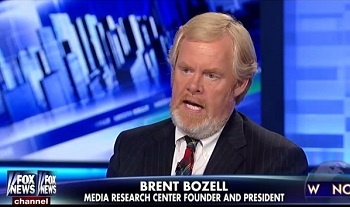 Last year, we noted that the latest book by the Media Research Center's Brent Bozell and Tim Graham carried only Bozell's name on the copyright despite Graham being listed as a full-fledged co-author (and the MRC claiming that it gets all proceeds from the book), and mused that Graham was getting screwed out of the book's proceeds.
Turns out Bozell has been screwing Graham out of a lot more than that.
Jim Romenesko reports that according to former MRC employees, Graham writes "almost everything published under [Bozell's] name," including Bozell's twice-weekly column. Further, Graham isn't happy aboaut it at all:
"Tim just resents having to do it," says a former employee.

Graham's wife, too, is so angry about the arrangement that she refuses to attend Media Research Center events.

"She hates Bozell," I'm told. "The forced ghostwriting is the issue," says an ex-employee.
One loyal MRC employee tried to spin this, according to Romenesko:
I was advised to contact a third MRC employee who, I was told, would confirm Graham's ghostwriting duties. He did that, but defended the practice of "people signing off on agreeable words written for them." He asked me: "How many speeches has Obama written the last ten years? Should he have prefaced the State of the Union with 'My fellow Americans – I didn't write this?'"

I asked Pittsburgh Tribune-Review colunnist and National Society of Newspaper Columnists president Eric Heyl about this remark. He said:

"The argument that the columnist should be allowed to use a ghostwriter because the president has speechwriters is as limp as pasta left overnight in boiling water. The comparison is ludicrous. The columnist doesn't have to spend much of his time dealing with a dysfunctional Congress or fretting over Iran's nuclear program."
As a result, Bozell's syndicator, Creators Syndicate, will add Graham as a co-author on the columns.
Bozell and Graham have refused to comment to Romenesko, and there is nothing about the controversy on any MRC website, so we don't know things like if Bozell will retroactively credit Graham for his work.
Romekesko also notices the ultimate irony of the situation: The organization that demands media outlets "Tell the Truth!" can't even tell the truth about itself.
Posted by Terry K. at 4:07 PM EST