AIM's Kincaid Freaks Out About De Blasio's Name Change
Topic: Accuracy in Media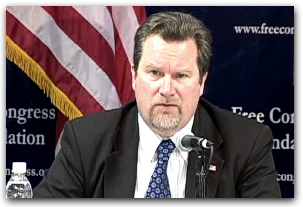 What is it about New York mayoral candidate Bill de Blasio's name change that so unnerves right-wingers?
In an Oct. 10 Accuracy in Media column that mostly rants about de Blasio's supposed pro-communist past, Cliff Kincaid drops this in: "Curiously, it also turns out that de Blasio has had three different names, but he refuses to talk about that in any depth, either."
As we pointed out when the Catholic League's Bill Donohue freaked out about it at Newsmax, de Blasio has discussed his name changes -- he was abandoned by his father and taking the name of his mother's family is his way of honoring the side of the family that raised him.
There is an explanation, but Kincaid has no interest in finding out about it, preferring to construct a conspiracy theory about it instead.
Posted by Terry K. at 9:12 PM EDT