WND's Unruh Can't Stop Perpetuating Homeschool-Nazi Myth
Topic: WorldNetDaily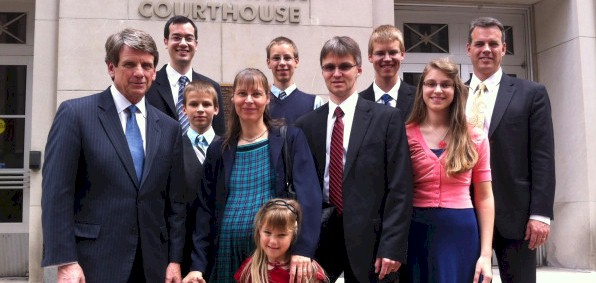 Bob Unruh, it seems, is not about to let the facts interfere with his defense of homeschooling.
Unruh writes in an Oct. 10 WorldNetDaily article:
A petition filed Thursday asks the U.S. Supreme Court to strike down a Nazi-era standard that would be imposed if the Obama administration gets its wish and deports a family of homeschoolers to Germany.

The petition from the Home School Legal Defense Association is on behalf of the Romeike family, which fled Germany because of the nation's ban on homeschooling.

Germany bans homeschooling based on a Nazi-era philosophy that the shaping of the minds of children ultimately must be guided by the state, not parents.
As we pointed out the last time Unruh wrote about the Romeike case, compulsory schooling in Germany dates farther back than the Nazi era -- it has been a tradition for a good 200 years.
Then, Unruh quotes a homeschool activist making the same claim:
HSLDA's founder and president, Michael Farris, noted that international human rights protections were written in response to Germany's practices in the Nazi era.

"It is impossible to distinguish the German desire for philosophical conformity today from that of the 1930s," he said. "Children do not belong to any government in any decade."
Like Unruh, Farris is going Godwin. As the chancellor and moot court coach at Patrick Henry College, the homeschooler-friendly school he founded, Farris should know better than to make such dishonest claims and engage in such a rhetorical fallacy.
As per WND policy, Unruh tells only the homeschoolers' side of the story, ignoring any mention of the fact that the Romeikes also rejected private and religious schools in Germany, and could have chosen to work toward creating a school in Germany that more closely aligns with their claimed "Christian faith" but they apparently chose not to.
Posted by Terry K. at 2:12 AM EDT
Updated: Saturday, October 12, 2013 2:17 AM EDT