Santorum Says Goodbye to WND
Topic: WorldNetDaily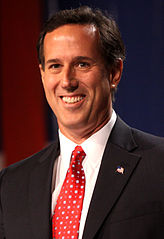 It was just a little over six months ago that Rick Santorum started writing a column for WorldNetDaily, whose editor, Joseph Farah, had endorsed Santorum's run for president (which, curiously, WND was loath about promoting, a rare case of WND turning down an occasion to engage in self-promotion). Now, he's going away.
Santorum used his June 23 WND column to engage in a round of self-congratulation before stating that it would be his last:
Last year, following the presidential campaign, we formed a group called Patriot Voices that is committed to fighting for all of these issues – faith, family, freedom and opportunity. And now I've joined EchoLight Studios as its CEO, a fast-growing faith and family film production company that is using film to promote many of these same ideas. Through Patriot Voices and now EchoLight, I will continue to promote a positive culture and stay engaged in the political process as America looks to find the right leaders in 2016.

Many thousands of you have supported us, and we will continue to fight. But rather than using our pen for this weekly column, we're going to be using our feet and our voices more going forward. We'll use our feet to cover as much of the country as we can to meet you and listen to you. And we'll use our voices to take your message back to Washington and out into the media so that you too can be heard. With the resources we have, we need to make every minute count – and this is the best way for us to do our work going forward.
Santorum could have kept a column going under his name whether he actually wrote it or not (and his use of the third person in discussing "using our pen for this weekly column" indicates he wasn't), but instead he's pulling the plug completely. That's a curious decision.
Did Santorum realize he was being tainted by his association with WND, which so discredited itself in its Javert-esque pursuit of Obama that nobody believes it? Perhaps.
Posted by Terry K. at 8:22 PM EDT