CNS Takes Putin's Side on Syria
Topic: CNSNews.com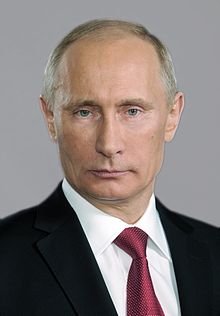 WorldNetDaily isn't the only ConWeb component siding with Bashar Assad's murderous regime in Syria.
A June 16 CNSNews.com article by Patrick Goodenough promotes Russian leader Vladimir Putin's attack on a reporter who repeated a statement by British leader David Cameron that "those supporting the Syrian leader had the blood of Syrian children on their hands," and his mention of of a video purportedly showing "a jihadist rebel leader cutting out and making as if to eat the heart of a Syrian soldier."
While Goodenough admits the video has been promoted by a "pro-Assad group," his article is clearly tilted toward those who advocate against the U.S. arming Syrian rebels and makes only a passing mention of the Assad regime's use of chemical weapons.
The fact that CNS is apparently taking sides with Obama is another piece of evidence showing how deep the anti-Obama hate is at the "news" website.
regime's use of chemical weapons against its own people - See more at: http://www.cnsnews.com/news/article/putin-cites-syrian-rebel-mutilation-video-are-these-people-you-want-support#sthash.hIx588GX.dpuf
a video clip circulating last month apparently showing a jihadist rebel leader cutting out and making as if to eat the heart of a Syrian soldier. - See more at: http://www.cnsnews.com/news/article/putin-cites-syrian-rebel-mutilation-video-are-these-people-you-want-support#sthash.hIx588GX.dpuf
those supporting the Syrian leader had the blood of Syrian children on their hands, Putin reacted angrily. - See more at: http://www.cnsnews.com/news/article/putin-cites-syrian-rebel-mutilation-video-are-these-people-you-want-support#sthash.hIx588GX.dpuf
those supporting the Syrian leader had the blood of Syrian children on their hands, Putin reacted angrily. - See more at: http://www.cnsnews.com/news/article/putin-cites-syrian-rebel-mutilation-video-are-these-people-you-want-support#sthash.hIx588GX.dpuf
those supporting the Syrian leader had the blood of Syrian children on their hands, Putin reacted angrily. - See more at: http://www.cnsnews.com/news/article/putin-cites-syrian-rebel-mutilation-video-are-these-people-you-want-support#sthash.hIx588GX.dpuf
those supporting the Syrian leader had the blood of Syrian children on their hands, Putin reacted angrily. - See more at: http://www.cnsnews.com/news/article/putin-cites-syrian-rebel-mutilation-video-are-these-people-you-want-support#sthash.hIx588GX.dpuf
those supporting the Syrian leader had the blood of Syrian children on their hands, Putin reacted angrily. - See more at: http://www.cnsnews.com/news/article/putin-cites-syrian-rebel-mutilation-video-are-these-people-you-want-support#sthash.hIx588GX.dpuf
Posted by Terry K. at 9:19 PM EDT