Does WND Like Running Racist Ads On Its Website?
Topic: WorldNetDaily
Remember when WorldNetDaily had standards for the advertising it runs?
In 2001, WND "at least temporarily" discontinued national advertising on its website "because too many are offensive to management and readers." Those allegedly offensive ads WND editor Joseph Farah disliked ranged "from the promotion of online gambling to the marketing of national television programs that, he says, he would never allow his own children to watch."
In 2009, WND railed against "Sexually provocative ads, sexually suggestive ads, sexually oriented ads and those that are in bad taste," and Farah asked readers to flag ads "of questionable merit or taste" appearing on the website.
What WND apparently doesn't find offensive, though, are racially inflammatory ads that smear the wife of the president of the United States. Wonkette has caught WND publishing the following ad on its website: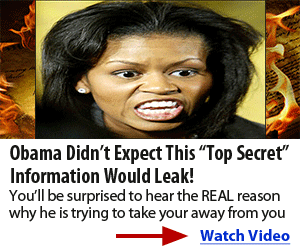 Did anybody not flag this for Farah until now? Or does Farah not find this offensive? Perhaps he should explain to his readers why this ad appears on his website.
Posted by Terry K. at 1:13 AM EDT