Remembering WND's Favorite Domestic Terrorist, Since WND Won't
Topic: WorldNetDaily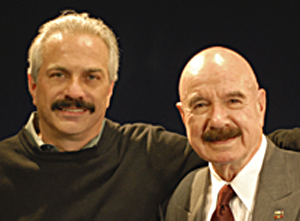 Art Moore tries to work up a little indignance in a Feb. 18 WorldNetDaily article:
Employed as a communications specialist for the Council on American-Islamic Relations in Washington, D.C., police stopped Randall "Ismail" Royer for a traffic violation in September 2001.

The officers found in Royer's automobile an AK-47-style rifle and 219 rounds of ammunition. Two years later, Royer was indicted along with 10 others for conspiring to levy war against the United States and to provide material support to al-Qaida. For agreeing to cooperate with the government, he pleaded guilty to lesser weapons and explosives charges, and was sentenced to 20 years in prison.

Now, released after serving nearly 14 years of his sentence, Royer, an American convert to Islam, says he is a changed man and rejects terrorism.

The Washington Post gave Royer space to write a column this month, noting in his bio he serves as a research and program associate at the Religious Freedom Institute in Washington. Since his release from prison in December 2016, the Post said, he has "worked in the nonprofit sector developing strategies to promote religious liberty and undermine extremist ideology."

A feature by Quartz magazine in May 2017 said Royer's goal now is "to fight fanatical ideologies, such as those held by extremist groups like ISIL and al-Qaeda."
Moore goes on to pen a lengthy denunciation of Royer and CAIR.
Given Moore's lengthy screed, now is probably a good time to remind folks of WND's own favorite domestic terrorist.
G. Gordon Liddy is best known for his actions that set the Watergate scandal in motion, such as participating in the break-in at the Democratic headquarters in the Watergate office complex and being a conspirator in the break-in at the office of the psychiatrist for Daniel Ellsberg. But Liddy also plotted numerous acts of domestic terrorism that were fortunately not carried out, such as the murder of Richard Nixon's critics. He also advocated the murder of federal agents in his radio show in 1994, saying, "Well, if the Bureau of Alcohol, Tobacco and Firearms comes to disarm you and they are bearing arms, resist them with arms. Go for a head shot; they're going to be wearing bulletproof vests."
As we've documented, WND was a good friend to this domestic terrorist. WND editor Joseph Farah appeared on Liddy's radio show numerous times as both a guest and guest host, and several WND writers made guest appearances on the show. One WND article touted Liddy (who was to appear on a WND-sponsored cruise) as a "bon vivant, raconteur and general all-around nice guy" with no mention at all of his history of domestic terrorism. Former WND writer Aaron Klein's 2007 book, "Schmoozing With Terrorists," not only offered a shout-out to Liddy in the acknowledgements section -- "looking forward to many more Mideast adventures together" -- he begins one chapter by recounting one such "adventure" with Liddy, awestruck by how damn studly the guy is, again with no mention of his domestic terrorism.
If Moore can't work up any anger about his employer being so buddy-buddy with a domestic terrorist like Liddy, he has no moral standing upon which to criticize others.
Posted by Terry K. at 4:04 PM EST