MRC Still Falsely Spinning Trump's Old Attack on Central Park Five
Topic: Media Research Center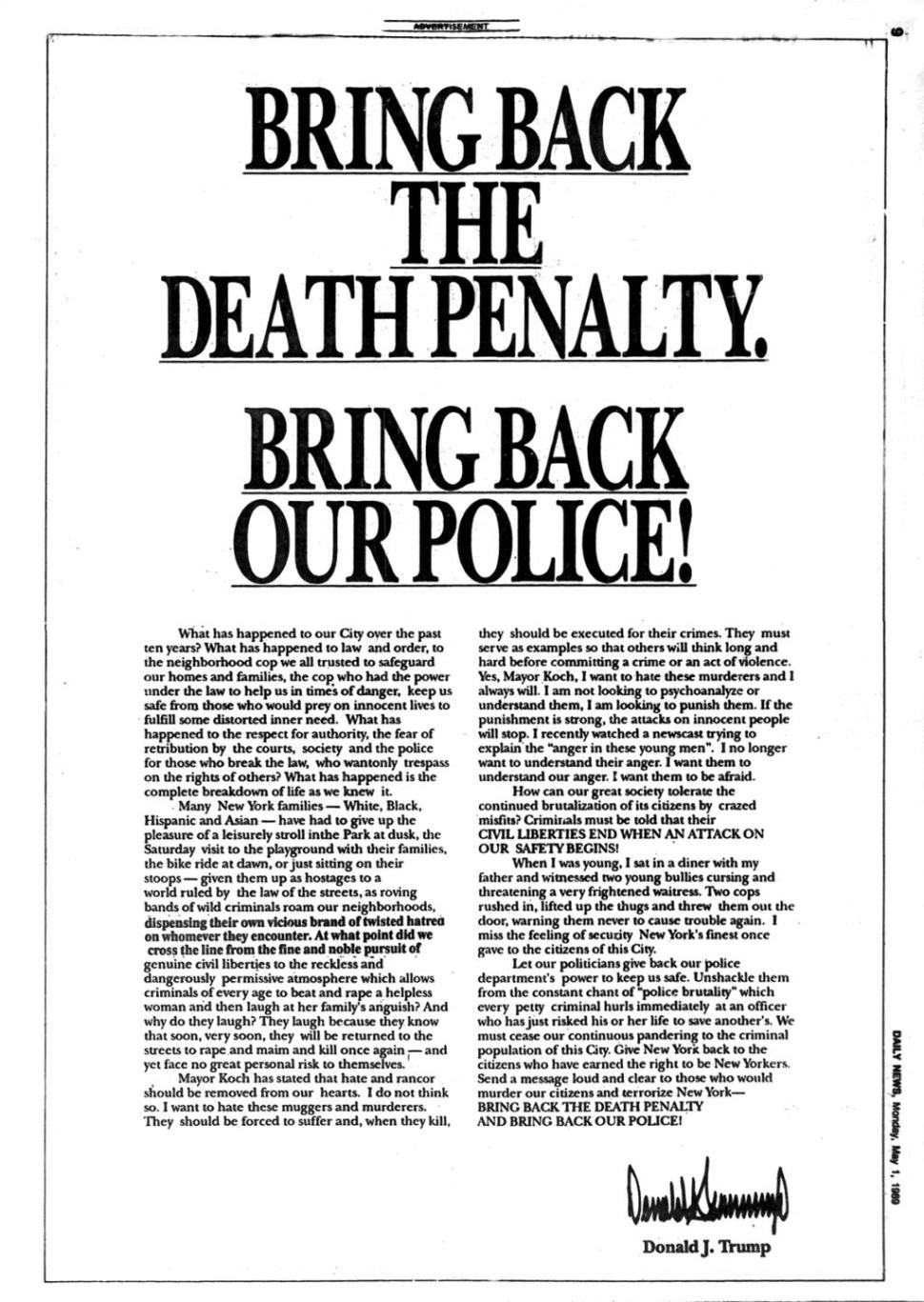 Former Media Research Center researcher-turned-NewsBusters blogger Brad Wilmouth has a bad habit of clinging to lost causes. We've already caught him denying that Republican Rep. Steve Scalise gave a speech to a David Duke-led white nationalist group -- despite the fact that Scalise apologized for giving it.
Wilmoth's current lost cause -- as we first noted last September -- is denying that a 1989 newspaper ad placed by Donald Trump wasn't advocating for the death penalty to be applied to the Central Park Five, a group of teens accused of raping and beating a female jogger in Central Park who were cleared of the crime years later. Wilmouth insisted that Trump's ad couldn't have been referencing the Central Park Five because they weren't mentioned in the ad itself, despite the timing of the ad and the headline "BRING BACK THE DEATH PENALTY" -- and they would not have been eligible for the death penalty anyway since they were juveniles. Wilmouth also denied that despite being cleared of roles in the attack, they weren't actually exonerated even though New York City officials paid a large settlement to them.
Wilmouth rehashed some of this in a Feb. 11 post:
On Sunday's MSNBC Live, host Yasmin Vossoughian repeated the discredited claim that President Donald Trump in 1989 used an ad to urge the execution of a group of underage teens who turned out to be innocent, as she even gave a forum to one of the teens, Yusef Salaam, to rail against Trump talking up "due process" for members of his administration accused of domestic violence.

At 4:37 p.m. ET, after recalling the case of White House aide Rob Porter resigning after the airing of spousal abuse charges, the MSNBC host read a tweet from Trump asking for "due process" before she then brought up the Central Park Five case:

But Trump himself has been known for making serious allegations without allowing justice to run its course. In 1989, when five African-American and Latino teenagers were accused of raping a jogger in New York's Central Park. Trump bought a newspaper ad suggesting they should be executed. The so-called Central Park Five were later exonerated.

But, in context, the 1989 "Bring Back the Death Penalty" ad came at a time when capital punishment was not a legal option in New York because the old law had been struck down by a court ruling. At the time, there had also been a movement for the state legislature to pass a new death penalty law which was likely to be vetoed by then-Democratic Governor Mario Cuomo.

Because there was no death penalty option on the books at the time, capital punishment could not have been applied to the Central Park Five even if a new law were passed.

[...]

In fact, in an interview with CNN's Larry King from May 1989, Trump stated that he believed a new death penalty law should only apply to adults, contradicting the claims by liberals that the point of the ad was to advocate the death penalty specifically for the Central Park Five. Additionally, the ad only called for the death penalty for those who commit murder, and the Central Park attack victim survived.
Wilmouth overlooked the part of the Larry King interview in which he also said, according to the CNN article to which he linked, that "Trump told King his newspaper ads were not 'pre-judging' the five teens, but rather advocating for their execution if they were to be found guilty."
So, yes, even though he admitted that the death penalty doesn't apply to minors, Trump was calling for it anyway. It's a muddled message, something Trump is prone to -- muddled enough that Wilmouth should know better than to try and defend Trump over it.
But then, defending Trump no matter what is what the MRC does these days.
Posted by Terry K. at 9:13 PM EST