CNS' Reaction to Fla. Shooting: Blaming Abortion, Bashing Students
Topic: CNSNews.com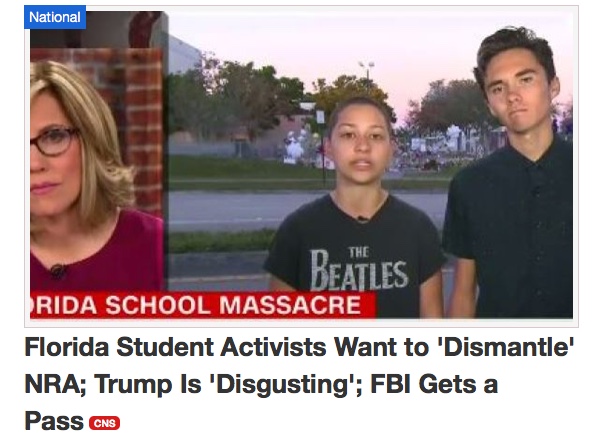 CNSNews.com responded to last week's mass shooting at a Florida high school the way you'd expect from a right-wing website: blaming anything but guns for the massacre, then attacking the school-age survivors for speaking out.
CNS first reposted a 2012 commentary by Craig Bannister effectively blaming abortion for mass shootings:
The problem of mass violence in the U.S. is more a reflection of contempt for the sanctity of human life than of a love for gun ownership.

In a society that reveres human life, gun ownership isn't a chronic problem. People who genuinely believe in the sanctity of human life won't take another life - by gun or any other means - unless it is absolutely necessary.

Not so in a society that views human life as subjective and revocable.

In a society that condones, funds, and promotes abortion and excuses euthanasia, human life is cheap. When a woman has a right to kill an unwanted child growing inside her simply because it suits her to do so, life is robbed of its value.

[...]

Thus, when it comes to preventing mass violence, the answer is respect for life and self-control - not gun control.
When students at the school began to show up in the media demanding action against gun violence, highly biased CNS reporter Susan Jones went into attack mode. Jones sneered in one "news" article that the students were ignorant publicity hogs:
The FBI failed to investigate warnings about the Florida school shooter, but never mind that. And the National Rifle Association has no control over school shootings, but never mind that, either.

Two newly minted gun control activists from Stoneman Douglas High School in Parkland, Florida are defending the FBI, while demanding that NRA "child murderers" dismantle and disband. And they have declined an invitation to discuss their concerns with President Donald Trump, whom they call "disgusting."

[...]

Both Hogg and Gonzalez said they have been invited to a listening session to share their concerns with President Trump, but neither of them are going. They're blowing off Trump for CNN's Jake Tapper, who is hosting what they called a previously scheduled town hall on CNN.
Jones doubled down on her attack in a second article trying to defend the National Rifle Association:
Stoneman Douglas High School student Emma Gonzalez told CNN on Monday morning that she wants the NRA to "disband, dismantle...don't you dare come back here." She said gun control is the students' main focus. Fellow student David Hogg said politicians have to stop taking money from those NRA "child murderers." The students made it clear that the upcoming "March For Our Lives" is a direct attack on the NRA. But, they insist, this is not political.
She made sure to insert a piece of boilerplate pro-NRA puffery:
The National Rifle Association supports the legal possession and use of firearms and protects' Americans' right to self-defense. It also donates to politicians who endorse the Second Amendment right to keep and bear arms. The "blood on its hands" line is straight out of the liberal, anti-gun, anti-NRA playbook, and by making the NRA the bogeyman, as it so often is, the students politicized the debate that supposedly "isn't a red and blue thing."
Again: Jones is writing what are supposed to be "news" articles. Instead, she's injecting the kind of bias CNS' parent, the Media Research Center, normally objects to.
Posted by Terry K. at 8:51 PM EST