MRC Pushes Conspiracy Theory About CNN Reporter
Topic: Media Research Center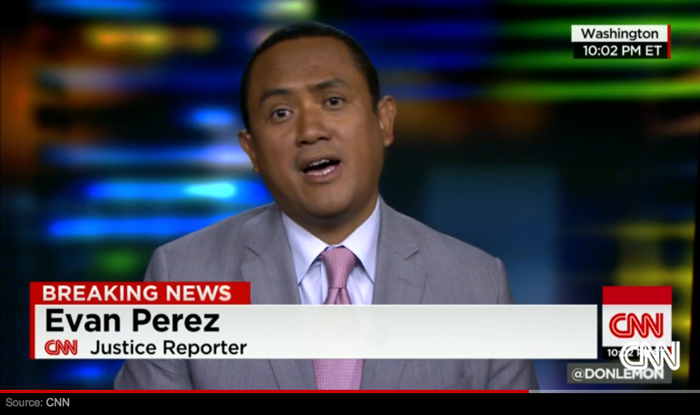 Last week, the conservative Daily Caller did a hit piece on CNN reporter Evan Perez, rummaging through his Facebook account to claim "close ties" between him and former colleagues at a previous reporting gig at the Wall Street Journal who went on to found Fusion GPS, the opposition-research firm responsible for the infamous Trump dossier. The article is filled with speculaton; no attempt was apparently made to verify the alleged relationship with Perez and his former colleagues, let alone obtain permission from Perez to root through his Facebook account and steal photos from it.
The Media Research Center, which normally likes to portray itself as above such conspiracy theories, ran with this one. Tim Graham eagerly quoted large chunks of the Daily Caller piece in an Oct. 28 post highlighting how Perez was "socializing with his Fusion pals."
Tom Blumer took it a step further in an Oct. 31 post, claiming that the speculative Daily Caller report "would seem to explain why CNN has been particularly hostile towards the Trump administration and even more incomplete than usual in its reporting since Tuesday evening's revelations that Hillary Clinton's presidential campaign and the Democratic National Committee helped fund the infamous Trump-Russia dossier."
Blumer expanded the conspiracy to cover all of CNN for accurately reporting that the Trump administration was trying to distract from its own Russia connection by obsessing over Democratic connections to the dossier and a Russian uranium deal that only peripherally involved Hillary Clinton. (As dutiful Trump stenographers, the MRC has been obsessing about them as well.) Blumer petulantly rants to dubiously claim that Trump isn't acting out of petulant anger at a political opponent:
Hillary Clinton, since she lost the general election in November and currently holds no political office of any kind, is no longer Trump's political opponent. She is only a critic, with no more or less standing than Michael Moore or Lena Dunham. The same goes for former presidents Bill Clinton and Barack Obama, Eric Holder, Loretta Lynch, and (certainly in the Uranium One matter) James Comey. Investigating their activities and actions when they were in office or had the opportunity to influence those who were in office is therefore not a conflict of interest. If there is strong reason to believe that any of these now-private citizens committed crimes while they did hold political office, it's the government's duty to investigate and, if there is sufficient evidence, to prosecute. Otherwise, we're supposed to believe that anyone who has held a political office and then becomes a private citizen has a permanent get-out-of-jail card, regardless of what they did when they (ahem) "served."
Blumer went on to call Perez "obviously conflicted" based on the speculative Daily Caller story.
Graham and Brent Bozell rehashed the Daily Caller claims in their Oct. 31 column, huffing: "CNN's anti-Trump stories have hidden all this behind a wall of 'anonymous sources.' This is one dreadfully serious reason why the American people don't trust "investigative reporting." In reality, it turns out it looks like a series of chummy hand-offs, funded by Trump opponents."
Graham and Bozell didn't direct the same level of anger against the right-wing outlet that originally paid Fusion GPS for their oppo work on Trump, benignly noting in a claimed attempt to be "fair and balanced":
To be fair and balanced on this ethical front, the conservative Washington Free Beacon website also retained Fusion GPS for research – for a few months before the Clinton campaign and the DNC – and the Daily Caller reported that they also reported on Fusion GPS without acknowledging a relationship.
Of course, if Graham, Bozell and the MRC really was trying to be "fair and balanced," they would have told their readers about the Free Beacon's involvement wigh Fusion GPS much sooner than this.
Posted by Terry K. at 8:21 PM EST