We Called It! Newsmax In The Market for O'Reilly
Topic: Newsmax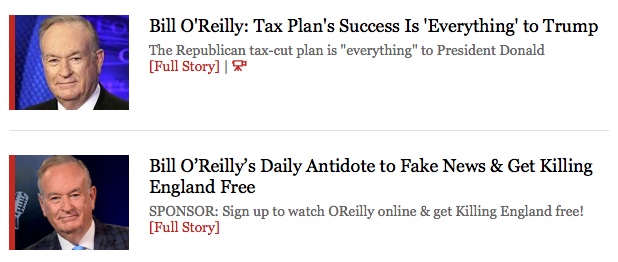 We were right.
Nast week, we noted that fluffy Newsmax coverage of disgraced ex-Fox News host Bill O'Reilly indicted that it was in the market to obtain O'Reilly's services for its little-watched, little-carried TV channel. Now, with the news that Sinclair Broadcast Group has officially pulled out of the market for O'Reilly after it was revealed he had paid $32 million to settle one case of sexual harassment, Newsmax is officially in.
Politico reported that Newsmax CEO Christopher Ruddy has confirmed he's courting O'Reilly, adding that, according to Ruddy, "Newsmax has already established a relationship with O'Reilly, letting him use its podcast studios for several hours each week in New York since his dismissal from Fox News as an informal favor."
Politico notes that the sexual harassment allegations against O'Reilly are an issue, "though they do not appear to be enough to keep Newsmax from pursuing a deal." It also notes that Newsmax "posted an article about one of the former Fox host's accusers being arrested in 2015 for making a false crime report."
Politico adds that an O'Reilly presence on Newsmax TV could be used as leverage to grow his TV channel and the company in general:
Newsmax is also exploring financing options to grow the network, and it's potentially looking at going public, according to a person familiar with the network's thinking. That type of expanded platform could prove enticing to O'Reilly—and adding a high-profile name like his could conceivably juice the company's valuation.
Meanwhile, there's still evidence of the O'Reilly connection on Newsmax's website. The other day, as the above screenshot shows, a Newsmax story featuring O'Reilly opining on President Trump's tax plan was paired the front page with an ad by O'Reilly to get readers to subscribe to his own website.
If O'Reilly does end up at Newsmax, this is how it will happen.
Posted by Terry K. at 11:45 AM EDT