NYC Attack Sparks WND's Muslim Derangement (Again)
Topic: WorldNetDaily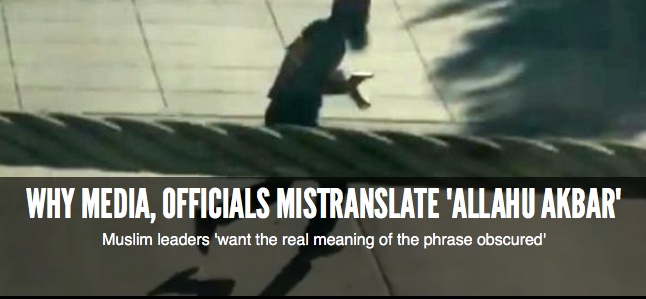 The recent attack in New York City in which a man struck and killed several people with a rented truck sent WorldNetDaily into its usual paroxysms of Muslim Derangement Syndrome.
WND's initial article on the incident, by Leo Hohmann, made sure to inform us that the alleged perpetrator, Sayfullo Saipov, is "a Muslim immigrant from Uzbekistan," with HOhmann elaborating, "Translated into English the name Sayfullo means 'Sword of Allah' and Habibullaevic [mis middle name] means 'Lover of Allah.'"
Hohmann also threw his usual fit that authorities are actually investigating the attack and not immediately declaring the case closed because Sayfullo had a Muslim-y name:
But the attacker's religion compounded by his recent immigration and his shouting of the infamous Islamic war cry was not enough for the FBI, the mayor of New York, CNN and most of the establishment media to determine this was an Islamic terror attack.

The attack took place at 3:05 p.m. and the FBI immediately made statements that the motive is not known, then Mayor Bill De Blasio took the podium about 5:20 p.m. and was able to confirm that the attack was indeed an act of terrorism. What kind of terrorism, however, was not discussed.

There was no mention of Islam or what might have motivated the attacker. Fox News focused on the attacker's likely status as a "lone wolf" and whether he could have been "self radicalized" as opposed to having learned to attack infidels in a mosque or by reading the Muslim texts.

New York Gov. Andrew Cuomo said in a press conference that the attack was targeting New York because it is a "symbol of freedom and democracy," describing the suspect as a likely "lone wolf." He added, "That also makes us a target from those people who oppose those concepts… We go forward together, and we go forward stronger than ever. We're not going to let them win."

Again, no mention from the governor of Islam or the Islamic texts that have inspired devout Muslims throughout history to carry out jihad.
And as usual, Hohmann interviews only his fellow Muslim-haters -- like Pamela Geller, Philip Haney and Mark Christian-- to discuss the incident.
That was followed the next day by an article by Art Moore futzing over the purported "correct" definition of Allahu akbar":
As the horrific news broke Tuesday that the driver of a Home Depot rental truck in New York City had mowed over pedestrians and bike riders, "terrorism" naturally came to the minds of most Americans.

When reports began circulating that witnesses heard the perpetrator yell "Allahu akbar," even law enforcement officials typically reluctant to apply the terrorism label to such incidents acknowledged they were looking at something more than a tragic accident.

"Allahu akbar" is an Arabic phrase that has become significant in this post-9/11 era, yet in the aftermath of the attack Tuesday in which eight people were killed and a dozen injured, official after official and news outlet after news outlet mistranslated it, insisting it means "God is great."

An accurate translation – and even Google Translate affirms it – is "Allah is the greatest" or, literally, "Allah is greater," as in the god Allah is greater than all other gods.
Given that the question at had is about language, you'd think Moore would interview a linguist or an Arabic language expert. Nope -- the only people he talks to are anti-Muslim activist Robert Spencer and a representative of the anti-Muslim Middle East Media Research Institute.
Which tells us that Moore has no intention of honestly answering the question but, rather, just wants to engage in more politically motivated Muslim-bashing.
UPDATE: WND marketing guy Paul Bremmer gave Hohmann -- who apparently has taken off his "reporter" hate, not that there's any real difference between "news" and opinion at WND -- to rant further about how much hates Muslims while also plugging his anti-Muslim book:
This was the very type of attack WND news editor Leo Hohmann warned about in his book "Stealth Invasion: Muslim Conquest Through Immigration and the Resettlement Jihad," which was published in January. The "stealth invasion" to which he refers is the immigration of Muslims to America for the purpose of planting their ideology on American soil and eventually subverting the country.

"Once these young Muslim men arrive on our soil as immigrants, it is too late," Hohmann said. "The damage has already been done. If they weren't already 'radical' when they arrived, the odds are not in our favor that they will remain peaceful. Not when we have our cities loaded up with radical mosques, not when we have the Muslim Brotherhood doing business as CAIR ready to defend their 'civil rights' to practice a faith that calls for a smorgasbord of anti-American activity, including adherence to a foreign system of law that sanctions honor violence against women, female genital mutilation, violence against gays, polygamy, child marriage and a sense of supremacy over all other religious faiths."

Hohmann pointed out the 9/11 attacks had many of the same overtones as Saipov's truck attack: young Muslims migrated to the U.S., attended radical mosques, and used American freedom and resources to methodically plan a deadly attack on New York, the largest and most iconic American city. He said 9/11 should have caused America to reexamine its commitment to diversity and "diversity visas," but sadly our politicians did not get the wake-up call.

[...]

"I would argue that our American system of freedom of religion under the First Amendment is tailor-made for Islamic civilizational jihad – which aims to take over by upsetting the demographic apple cart and waging lawfare in the courts," Hohmann declared. "Because once the Muslim migrant arrives, he is a protected minority whose views, no matter how aberrant we may find them, are considered part of his religion. Hands off. Of all the countries on earth that should be concerned about Islamic immigration, it should be America."
Posted by Terry K. at 12:42 AM EDT
Updated: Saturday, November 4, 2017 11:46 PM EDT