CNS Goes All In on Franken Allegations, Continues To Bury Moore
Topic: CNSNews.com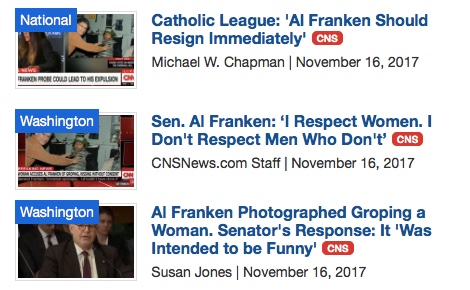 We documented how CNSNews.com waited a full four days before reporting on Republican senatorial candidate Roy Moore's history of perving on teenagers. But when an allegation of groping surfaced against Democratic Sen. Al Franken, CNS -- in yet another display of media bias -- went all in.
In the eight hours after the news about Franken broke on Nov. 16, CNS cranked out three "news" articles and a blog post on it:
The next morning brought an article about President Trump's tweets on Franken, with added whining fron reporter Susan Jones that "reporters at the White House wanted to talk about Republican Senate candidate Roy Moore"; the usual statement of manufactured outrage from Brent Bozell (first identified as "ForAmerica chairman" instead of the head of the Media Research Center); and the column Tim Graham hastily wrote for him and Bozell on Franken, proof that they can address sexual harassment when it helps their political agenda.
The column shows why Bozell (via Graham, his once-anonymous ghostwriter) has been silent on Moore so far -- he apparently has no problem with a grown man perving on teenagers, because he can't be moved to raise an objection. Here's what they wrote:
As the Franken scandal unfolds, the media and Democrats have insisted that Alabama Senate candidate Roy Moore cannot win the seat due to allegations that he had sexual contact with teenagers. There's no photograph here either. There is no admission of guilt like Franken's. But journalists demanded the voters of Alabama tar and feather Moore.
Apparently, if you deny the accusations, Bozell is cool with that -- well, if you're a conservative, anyway. Bozell and Graham rant about how Bill Clinton accusers like Paula Jones and Juanita Broaddrick were treated by the media even though they, like Moore's accusers, have offered no evidence to back up their claims. That makes this yet another example of the MRC' inability to unequivocally critizize Moore's behavior.
(Meanwhile, the only other CNS article to focus on Moore is a blog post by managing editor Michael W. Chapman complaining that Stephen Colbert called out evangelicals who continue to support Moore. Chapman protested that "Only one woman alleged that Moore molestd [sic] her, not 'four teenage girls'" and that "Moore has not been charged with any crime and none of the allegations against him have been proven in a court of law.")
Bozell and Graham complain about the "rampaging liberal hypocrisy" on media coverage, but they will never admit their own rampaging right-wing hypocrisy, and that of the "news" operation they run.
Posted by Terry K. at 4:40 PM EST
Updated: Saturday, November 18, 2017 10:27 AM EST