WND Promotes Anti-Gay Billboard, Won't Tell Readers It's Bogus (And The Model Is Gay)
Topic: WorldNetDaily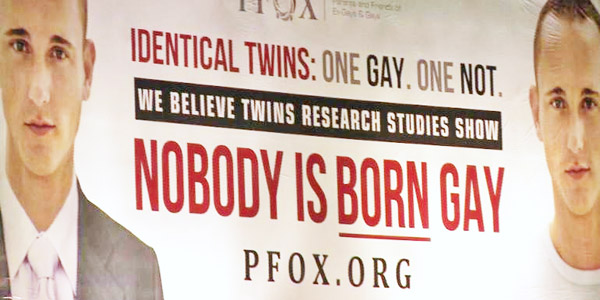 A Dec. 15 WorldNetDaily article by Jack Minor promotes the "nobody is born gay" billboard paid for by the group Parents and Friends of ex-Gays (PFOX). Minor does a fine job of pushing the group's (and WND's) anti-gay agenda, declaring that "The proposition that sexual orientation is changeable destroys the reason for that minority and protected status, as it becomes nothing more than a lifestyle choice then."
As is usual for WND, Minor can't be bothered to talk to any critic of the billboard (he stole a quote from a critic from someone else's news story). He does, however, make sure to talk to a former PFOX official who asserts that "There is zero evidence that a person is born a homosexual."
Minor failed to do something else as well: acknowledge the fact that the billboard itself portrays a false image.
The billboard purports to depict identical twins, one who is gay and one who isn't. In fact, the images are stock photos of the same person, a model who -- wait for it -- is gay.
The model, Kyle Roux, denounced the use of his image in an anti-gay campaign: "It just seems there's no place in today's world for an organization that is promoting this as a deviant or distasteful lifestyle because I've lived my life openly gay and happy."
News of PFOX's bogus billboard broke two days before Minor's article was published, but Minor makes no mention of it even though his article is about said billboard. Such hiding of inconvenient facts is just another reason why nobody believes WND.
Posted by Terry K. at 2:57 PM EST