With A Little Help From Her Friends (At the MRC)
If former CBS correspondent Sharyl Attkisson really played her reporting straight, would the conservative Media Research Center be so effusively singing her praises?
By Terry Krepel
Posted 11/17/2014
---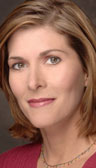 Sharyl Attkisson
Since former CBS correspondent Sharyl Attkisson revealed herself to be an anti-Obama conservative-leaning reporter, the Media Research Center has her back, defending her by ignoring the shoddy nature of her reporting.

The MRC is continuing to ignore the issues with Attkisson's reporting even as she generates more problematic work.
Hiding problems with Attkisson's reporting
In a Sept. 15 NewsBusters post, Curtis Houck complained that the networks are providing "zero coverage of news from investigative reporter Sharyl Attkisson that aides to Clinton when she was Secretary of State engaged in a weekend meeting that included the removal of documents related to the Benghazi attacks that portrayed her in a negative light." Houck touted how "Attickson [sic] interviewed former Deputy Assistant Secretary Raymond Maxwell, who stated that the weekend meeting took place in the basement of a room at the State Department and included going through 'boxes and stacks of documents" relating to the attack that left four Americans dead" that pruportedly involved "pull[ing] out anything that might put anybody in the [Near Eastern Affairs] front office or the seventh floor in a bad light."
NewsBusters' P.J. Gladnick followed up with a Sept. 16 post stating that "Politico reporting on groups of Hillary Clinton supporters who will be defending her during the Congressional Benghazi hearings which makes absolutely no mention of the Sharyl Attkisson's report about how Hillary's aides at the State Department scrubbed the Benghazi documents of possibly incriminating information." Gladnick insists that Attkisson is making "pretty damning allegations" in her "bombshell" story.
What Houck and Gladnick didn't tell their readers: Attkisson's source is highly questionable at best. As Media Matters noted, even some reporters at MRC fave Fox News doubt Attkisson's report; Bill O'Reilly, for instance, called Maxwell "a disgruntled former State Department official" who, Attkisson confirmed, didn't actually witness any of the actions he claimed happened. Fox correspondent James Rosen reported that Attkisson's source had previously failed to disclose this accusation of a cover-up and that his account "bears a lot of further investigation before it can be deemed credible."
But these MRC writers somehow trust Attkisson implicitly, even though the MRC has criticized her reporting in the past for promoting conspiracy theories about vaccines. The MRC's cognitive dissonance on Attkisson continues.
A Nov. 6 NewsBusters post by Melissa Mullins touted a Hollywood Reporter interview in which former Attkisson discussed the alleged hacking of her computer, and how a "legal and forensics team" supposedly found evidence of "highly sophisticated remote intrusions into my personal and work computers by someone using software proprietary to a government agency…either to the DIA, CIA, FBI or NSA over a period of time."
Mullins doesn't mention, however, that significant doubts have been raised about Attkisson's claim.
After Attkisson posted an online purporting to show her computer being hacked in real time, Media Matters consulted computer experts who diagnosed the apparent culprit as a stuck backspace key.
Attkisson has also changed her story on the alleged hacking. She originally claimed that an anonymous source had given her the identity of the person who had hacked into her computer, but in a later interview, Attkisson said she didn't know who the hacker may have been, but "I just know that there's some government tie."
Mullins doesn't mention she was asked about the video of the supposed hacking video during the Hollywood Reporter interview. Despite originally presenting the video as evidence of hacking, she backed off it in the interview, dismissing her own video as "a video anecdote, something that happened along the way. It has nothing to do with the forensic evidence and the analysis. It's just something interesting, a punctuation mark of things that were happening."
Mullins also uncritically repeated Attkisson's claim that she's not biased, which ignores the fact that she has worked exclusively for conservative outlets like the Daily Signal (operated by the Heritage Foundation) and Sinclair Broadcasting (which infuses the local news broadcasts of the TV stations it owns with conservative bias) -- and has been championed by conservative groups like the MRC -- since leaving CBS. If she didn't have a right-wing bias, would any of that be happening?
The Brent Bozell endorsement
Indeed, MRC officials Brent Bozell and Tim Graham devoted their Nov. 12 column to singing Attkisson's praises. The first clue that they don't intend to tell the full truth is their shading of the MRC's past criticism of Attkisson:
She has a record of playing it pretty straight and digging into the facts. We've flagged her for an occasional tilt over the years, like this one against President Bush in 2001: "Adding yet another twist to the President's dilemma, even conservative senators from his own party are urging him to support stem cell research." For a "conservative," Attkisson picked the late Arlen Specter, who had a lifetime rating of 41 percent from the American Conservative Union.
Bozell and Graham have apparently forgotten -- or decided to forget -- about Attkisson's advocacy of anti-vaccine conspiracy theories, which the MRC also dinged her for. But Bozell and Graham are more concerned with bolstering Attkisson's supposed journalistic bona fides:
But liberals have tried to undermine her professionalism, starting with CBS colleagues who hypocritically charged her with having a "political agenda." When Attkisson appeared on MSNBC's "All In," host Chris Hayes laid out the liberal line, appropriately identifying it as "the most cynical."

[...]

The folks at MSNBC refuse to admit Attkisson has exposed the real cynicism inside the media, namely: Why would we look into rampant Obama administration corruption when it's "our job" to offer Obama a "successful presidency"? Chris Matthews announced that "most cynical" line on the purpose of TV journalism two days after Obama was elected president.

Sharyl Attkisson has never been a political operative. She's been a fairly objective journalist — something that MSNBC would never understand.
Needless to say, Bozell and Graham don't mention that Attkisson's post-CBS journalism has appeared exclusively in conservative-leaning media outlets. And they refuse to admit one glaring fact: If rabid right-wing political operatives like themselves are running to Attkisson's defense, she cannot possibly be "playing it pretty straight" or be "a fairly objective journalist." Objective and fair reporting, it seems, is something the MRC would never understand.
But Bozell and Graham aren't the only MRC employees trying to ignore inconvenient facts about Attkisson's bias. In a Nov. 10 NewsBusters post, Melissa Mullins fawned over the party being held for Attkisson's new book, "Stonewalled," which included "members in the media, whistleblowers from other scandals, and the outgoing House Oversight committee chairman, Rep. Darrell Issa." Mullins highlighted Issa's speech lavishing praise on Attkisson:
Darrell Issa, who has been just as much a key player in the Benghazi investigation by chairing the House Oversight Committee, also spoke to the crowd. "My committee is a desert island if not for a press that will look at stuff fairly and scrutinize it," Issa said. "In many of our investigations, Fox News led; CBS, on occasion, was there and made a big difference; on very rare occasions ABC; never NBC."

Investigations, he said, worked only "if the press, and particularly reporters, will go out and meet people and get the story from whistleblowers and then report it and give them a fair hearing."
Mullins expresses no curiosity about why a powerful congressman is attending the book party for a reporter who covers him. She doesn't mention that Attkisson uses her book to praise Issa and defend him against the not-unreasonable accusation that Issa's targeting of the Obama administration is politically motivated -- or that much of Attkisson's recent reporting has depended on leaks from Issa's office, which indicates an unusually close relationship between them.

If Issa were a Democrat and he attended the book party for, say, Chuck Todd -- not to mention regularly feeding information to him -- the MRC would be howling about the unseemly mingling of media politics. But because this is Darrell Issa and Sharyl Attkisson, the MRC looks the other way.

Again: If Attkisson wasn't doing conservative-friendly things, the MRC wouldn't be so eager and desperate to defend her.
Bonus: The Joseph Farah endorsement
The MRC isn't alone in the ConWeb with newfound admiration for Attkisson. Joseph Farah praised his new favorite reporter in his Nov. 9 WND column:
I don't know Sharyl Attkisson.

I've never met her.

But I have met a few reporters like her in my 37 years in the news business.

They are my heroes. They are my professional compatriots. They are the embodiment of why our Founding Fathers, in their wisdom, created special constitutional protections for the press for the first time in the history of the world.

[...]

Attkisson never had an ax to grind. She wasn't motivated to pursue the truth by a political ideology. Her agenda was always the same – doing good journalism, which, at least in part, requires a determination to expose waste, fraud, abuse and corruption in government no matter who is perpetrating it or allowing it.

I love reporters like Attkisson, and I always have. It's a privilege to work with them. It's a privilege to see their work. It's an honor to be in the same profession.

It's also unconscionable what happens to such muckrakers who do their job without fear or favor.
The fact that Farah is crushing on Attkisson tells you all you need to know about both of them. And this line from Farah is even more telling:
Understand that I love my profession. I never wanted to do anything else. While I don't know Sharyl Attkisson personally, I know she is just like me in that regard. It hurts to see a worthy institution undermined by unworthy practitioners.
Of course, one of the leaders in undermining the worthy institution of journalism is Farah himself, who runs a "news" website that nobody believes. Indeed, while he was writing that column, his ace reporter, Aaron Klein, was writing an article that attacked the wrong Loretta Lynch, confusing a California lawyer who supported President Clinton with a New York prosecutor nominated by President Obama as attorney general. While Klein's bogus article was ultimately deleted, WND's version of a similarly false Breitbart article that inspired Klein is still live on WND's website more than a week later.
If Farah really cared about journalism, he would clear his WND payroll of all the unworthy practitioners he employs. But he won't because he's one of those unworthy practitioners he purports to despise.
Needless to say, Farah is mum about Attkisson's dubious reporting. Also needless to say, despite all of Farah's bluster about Attkisson supposedly doing her job "without fear or favor," if Attkisson had gone after a Republican president the way she has President Obama, Farah -- like Bozell, Graham, and the rest of the MRC -- would not be so effusively singing her praises.