Newsmax Plays Class-Warfare Card on Obama Kids
Topic: Newsmax
James Morrison snarkily writes in a Dec. 11 Newsmax article:
While many public school students complain about lunchtime mush that meets White House calorie guidelines, President Barack Obama's daughters are dining on gourmet meals at a posh private school in Washington.

School kids have been moaning about tasteless fare local governments adopt to comply with first lady Michelle Obama's war on the waistline and posting photos of the mystery meals online.

The Sidwell Friends School, the $36,000-a-year private academy attended by Malia and Sasha Obama, also posts its menus on the Internet.

The Daily Caller discovered that Sidwell students eat well.

Thursday's lunch included: potato sausage soup, firecracker slaw, California chef's salad, all natural Jamaican jerk chicken wings, sweet potato black-bean bake, sauteed local greens, gemelli alfredo, and slice pineapple.
Morrison's reference to "gourmet meals at a posh private school" got further emphasis in the headline, which screamed "Obama's Daughters Enjoy Gourmet Lunches at Posh School."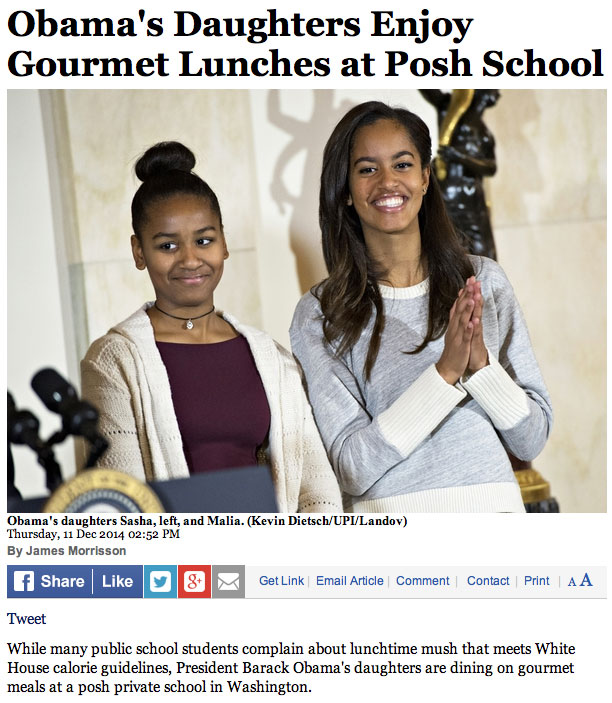 Morrison doesn't explain why he has chosen to make such a blatant class-warfare-based attack on the Obama daughters.
Posted by Terry K. at 11:16 PM EST
Updated: Sunday, December 14, 2014 11:17 PM EST