CNS' Jeffrey Falsely Blames Obama for Bush Light Bulb Regulations
Topic: CNSNews.com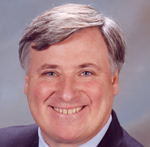 For a guy who runs a so-called "news" organization, CNSNews.com editor in chief Terry Jeffrey has a serious disdain for facts.
He proves it again in a Dec. 9 CNS article:
For example, the bill prohibits Obama from spending a penny to carry out regulations that would effectively prohibit incandescent light bulbs in the United States.

A statement by the House Approprations Committee says that the bill includes a "provision prohibiting funding for the Administration's onerous 'light bulb' standard, which prevents incandescent bulbs from being manufactured or sold, despite a continued public desire for these products."

An "explanatory statement" posted on "Bills to be Considered on the House Floor" says: "The agreement includes a provision regarding prohibiting funds to implement or enforce higher efficiency light bulb standards."

Congress apparently is not worried that Obama will veto the bill and shut down the federal government in order to continue his administration's policy on incandescent light bulbs.
But Obama did not create or sign the policy that mandated more efficient light bulbs. As the San Jose Mercury News details:
The 60- and 40-watt light bulbs that have been used in America for more than a century are being phased out as of Jan. 1, as part of a federal law banning their production in favor of more energy friendly bulbs like halogen or fluorescent.

Production of the 100- and 75-watt incandescent light bulbs stopped last year.

A lot of people seem to think this is President Obama's fault.

[...]

But unless they're joking, they are mistaken. President George W. Bush actually initiated the ban when he signed the Energy Independence and Security Act in 2007.
The Washington Post gave Mitt Romney three Pinnochios for falsely claiming that the light bulb efficiency standards were Obama's doing.
Also, contrary to Jeffrey's assertion, the new efficiency standards doesn't actually ban incandescent bulbs. As Popular Mechanics details, no particular type of bulb was banned, but standard incandescent bulbs are so inefficient -- converting only 5 to 10 percent of the electricity it consumes into light -- that they will need to be upgraded or replaced by other forms in order to meet the standard.
Jeffrey doesn't explain why he thinks such energy-wasting bulbs should remain in production.
Posted by Terry K. at 2:30 PM EST