Terry Jeffrey's Unprofessional, Uninformed Editorializing
Topic: CNSNews.com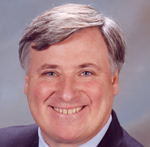 CNSNews.com editor in chief Terry Jeffrey has always been much more about advancing his right-wing agenda than practicing fair and ethical journalism. He is continuing to obliterate the line between journalism and opinion at CNS.
Jeffrey writes in a Dec. 3 CNS article that conservatives oppose a proposed National Women's History Museum because they "believe it will be tilted toward a feminist, pro-abortion vision of American women--and that it will promote such figures as eugenicist Margaret Sanger and cost-free-contraception health-insurance entitlement advocate Sandra Fluke."
Quite a mouthful there. How long did Jeffrey rearrange the words until he came up with formulation "cost-free-contraception health-insurance entitlement advocate" to dismiss Fluke? Do you get the feeling that Jeffrey was restraining himself from following in Rush Limbaugh's footsteps and calling Fluke a slut and a prostitute?
That's rank editorializing, and it doesn't belong in a "news" article.
Given CNS' longtime censorship of Limbaugh's denigration of Fluke, one may surmise that Jeffrey approves of Limbaugh's words.
Jeffrey goes into full unethical mode in a Dec. 6 article noting President Obama's words about Jesus and the holiday season:
Barack Obama is one of the greatest champions of the legalized killing of unborn babies in the history of the United States. In the Illinois state senate, he went so far as to repeatedly oppose a bill that simply would have defined a newborn child as a "person," "human being," "child" and "individual."

That law would have prevented live-birth abortions--a procedure in which a mother in late term is induced to deliver her child so the child can be left alone, without care, to die.
Even if that were true, Jeffrey's screed has no business being in a "news" article. But Jeffrey's portrayal of Obama's stance on the Illinois bill is disingenuous and misleading.
The bill Jeffrey is referring to is better known as a "born alive infant" law that would have entitled a fetus who survived an abortion to legal protection, even if doctors believe it could not survive. As FactCheck.org notes, Illinois law already provided such protection to infants with a "reasonable likelihood" of likelihood of surviving outside the womb.
Obama has long stated that he opposed the law because versions of it did not include a protective clause stating that it did not affect existing laws on abortion, according to FactCheck.
In other words, the law was designed as a wedge issue by anti-abortion activists. And Jeffrey's citing of it as a way to disingenuously smear Obama proves that intent.
Posted by Terry K. at 11:00 AM EST