CNS Rehashes 2-Month-Old Anti-Transgender Attack
Topic: CNSNews.com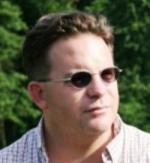 It's either a slow news week, or CNSNews.com managing editor Michael Chapman was feeling particularly hateful. Those are pretty much the only logical explanations for Chapman's Aug. 20 CNS article, in which he rehashes "a recent commentary in the Wall Street Journal" by "Dr. Paul R. McHugh, the former psychiatrist-in-chief for Johns Hopkins Hospital and its current Distinguished Service Professor of Psychiatry," who claims that "transgenderism is a 'mental disorder' that merits treatment, that sex change is 'biologically impossible,' and that people who promote sexual reassignment surgery are collaborating with and promoting a mental disorder."
Note Chapman's vaguery about McHugh's commentary being "recent." That's because it originally appeared more than two months ago, on June 12.
Since McHugh's op-ed has been sitting around for two months, you'd think that Chapman would have had more than enough time to go beyond stenography and note the fact that some commentators disagree with McHugh's analysis. One of these is from Mari Brighe, who points out that "McHugh has decided to ignore the growing body of neurological and genetic research providing evidence of a biological basis for gender dysphoria" and is "selectively reading the literature to support his own agenda." Brighe also notes that "Missing entirely from McHugh's analysis is any understanding or even mention of the tremendous discrimination, harassment, violence, and economic stability faced by the transgender community" and then "goes on to attempt to break down transgender individuals into three wide and poorly defined categories- with absolutely zero research or evidence other than his own personal say-so." Brighe concluded by noting that "the opinions of Dr McHugh fly in the face of currently accepted medical practice and the positions of many major medical associations" and "do not represent the views of the mainstream medical establishment, rather they are the erroneous, bigoted beliefs of a scientist who appears far too invested in his own antiquated, disproven theories and his anti-LGBT political position than the current state of medical affairs."
But Chapman can't be bothered to include a fair and balanced view -- he simply summarizes McHugh's op-ed. Which suggest that Chapman's view of transgenders mirrors that of McHugh.
Posted by Terry K. at 10:39 PM EDT
Updated: Thursday, August 21, 2014 10:40 PM EDT