MRC Circles Wagons Around Its Favorite Right-Wing Radio Hosts
Topic: Media Research Center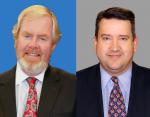 The Media Research Center has a symbiotic relationship with top right-wing radio hosts like Rush Limbaugh -- they promote the MRC's work, the MRC rewards Limbaugh's misogyny by starting a "I Stand With Rush" website.
The MRC also attacks any perceived threat to the right-wing radio empire, which explains Tim Graham and Brent Bozell's May 14 column attacking Mike Rogers, who's leaving Congress to start a radio show he says will be less vitriolic than the likes of Rush. Them's fightin' words:
Those who attack the likes of Rush Limbaugh, Sean Hannity and Mark Levin — as too conservative, too vitriolic or simply unhinged — have that right, even if, as is so often the case, they rely on others rather than listen to the shows themselves. That's what liberals do.

There are pretenders to the throne of conservative talk radio who claim to be so much less "poisonous" and stupid than Limbaugh, Hannity, Levin, et al. — and travel the same character-assassination route. Congressman Mike Rogers told The New York Times he's retiring in January to join Cumulus Radio for a national show, because "I think there is room for a more productive, you-might-actually-learn-something kind of talk radio in the marketplace."

Rogers, call your office.

Rogers is such a genius he thinks you launch a career in conservative talk radio by pandering to The New York Times. The article begins with Rogers denouncing all those members of Congress "who would rather raise their profiles and get into the media" than pass legislation. Rogers is so dense he can't see that he's denouncing the very road he's walking down.

[...]

What Rogers doesn't see is that he isn't just insulting talk show hosts. This "productive conservative host" is insulting his audience. They are morons, knuckle-draggers unable to think for themselves, unable to be smart. Yes, this is a man who will find a receptive audience on talk radio.

[...]

Limbaugh has been the king for decades now. He is a broadcasting legend. Hannity and Levin also have millions of loyal fans. But the liberals and the "reasonable" people just don't want to acknowledge reality. In this business, it's the market that decides. And this market has embraced Limbaugh, Hannity and Levin as emphatically as it has rejected the pretenders.

America should thank its lucky stars for these radio stars that Rogers disparages. They have done more than anyone to save this country and its tradition of liberty.

And Rogers? He'll be just another failure.
At no point do Graham and Bozell defend the content of Limbaugh, et al -- they can't, given that the have previously condoned Limbaugh's misogyny. They're simply engaging in a logical fallacy that because such hosts are popular, they must be right. And even that's a dubious prospect -- in addition to its fallacious foundation, Limbaugh's station swap at the start of the year has not brought big ratings to his new stations.
Given that, Rogers must be a real threat to Limbaugh if Graham and Bozell are devoting an entire column to attacking him.
Posted by Terry K. at 1:39 PM EDT