WND Adds AAPS-Linked Doctor As Columnist
Topic: WorldNetDaily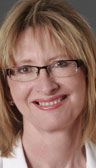 WorldNetDaily has added as a new columnist Dr. Lee Hieb, whose bio describes her as "an orthopaedic surgeon specializing in spinal surgery" and also "past president of the Association of American Physicians and Surgeons, a free market medical organization."
Actually, as we've detailed, AAPS is a right-wing group that opposes health care reform and mandatory vaccination, doesn't think doctors should be punished for massively overprescribing pain pills, and advocated Clinton conspiracy theories in the 1990s.
So, yeah, the perfect person to be a WND columnist. And she doesn't disappoint. Her inaugural column is one huge red-baiting screed:
Call a Code Blue! Medicine in America is in cardiac arrest.

If the election results are to be believed, the majority of Americans do not trust themselves and their highly trained physicians to make decisions about their health. Rather, they have relinquished total control of their medical care, including 14 percent of the nation's gross domestic product to the same crew of incompetents who crashed the housing market, who poured billions into business failures such as Solyndra and who see food stamps as supporting a jobs-growth program.

I am a practicing physician and surgeon, with over 30 years experience in hands-on patient care. I have seen firsthand the march to socialism, and the systematic destruction of the noble profession of medicine. And, believe me, we are at the end game.
Hieb goes on to write that "the Russian communist Vladimir Lenin, too, understood the role of medicine when he opined, 'Medical care is the keystone in the arch of socialism.'" In fact, as David Blumenthal and James A. Morone write in their book "The Heart of Power: Health and Politics in the Oval Office," the quote was apparently fabricated by a public relations firm hired by the American Medical Association to fight an attempt at health care reform during the Truman administration. Blumenthal and Morone note that the AAPS dredged up the fabricated quote in 2000.
Posted by Terry K. at 7:34 AM EST