WND: Obama's Re-Election Means 'American Tribulation'
Topic: WorldNetDaily
Led by Joseph Farah, WorldNetDaily's hatred of President Obama has become angry and apocalyptic since his re-election.
That increasingly desperate attitude has been codified in the new issue of WND's Whistleblower magazine, the theme of which is "THE AMERICAN TRIBULATION: Can the greatest nation in history survive 4 more years of Obama?"
Note that the cover superimposes debris from the 9/11 World Trade Center collapse onto a backdrop of Washington, blaming him for ... something: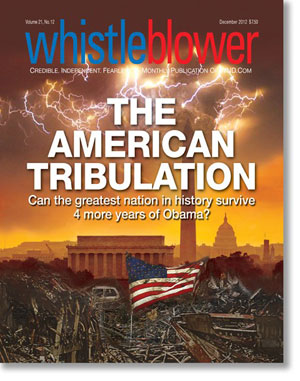 The promotion for the issue is equally apocalyptic:
Unthinkable. A cataclysmic disaster. The end of America as we know it.

That pretty much sums up how millions of Americans regard the re-election of Barack Obama.
Actually, that pretty much sums up the view in the WND offices after it destroyed its own reputation trying -- and failing -- to destroy Obama.
But WND wasn't done with the scaremongering, complete with repeating a discredited claim about regulations and proclaiming that only people who hate Obama as much as Joseph Farah and David Kupelian do are "right-thinking":
But amidst all of this sound and fury, the big question remains: What do the tens of millions of Americans – those who see Obama's re-election as the national catastrophe it really is – do now? With four more years of the Obama juggernaut, with government still spending amounts of money only physicists can comprehend, with an average of 68 new regulations being imposed on Americans every single day, with devastating economic meltdown imminent and the world daily becoming a far more dangerous place because of the U.S. president's scandalous failure of leadership, what can and should right-thinking people do now?

This difficult question is dealt with forthrightly and comprehensively in the December issue of WND's acclaimed Whistleblower magazine, titled "THE AMERICAN TRIBULATION: Can the greatest nation in history survive 4 more years of Obama?"

"This was a challenging issue to put together," said Whistleblower Editor David Kupelian. "We didn't want to sugar-coat the harsh reality of what has happened, but neither is it cause for good people to fall prey to hopelessness, anger or depression, nor to give up or drop out. Quite the opposite. This issue presents a totally realistic assessment of where we are now, but shows, almost paradoxically, how there is real hope and a definite way forward.

"'THE AMERICAN TRIBULATION' provides real direction and inspiration for readers who desire to preserve the America in which they grew up."
Nah, not so much, unless you count inspiring fear and hatred in its readers as "inspiration."
Posted by Terry K. at 4:44 PM EST