CNS' Terry Jeffrey Promotes Another Dishonest Smear of Gays
Topic: CNSNews.com
CNS editor in chief has always been a gay-hater -- so much so that he'll distort his work in order to up the gay-hate factor.
Jeffrey does this again with an Oct. 10 article carrying the overly long headline "U.S. Embassy in Libya Sought $13,000-Per-Year Bodyguards With 'Limited' English; But Gave Preference to Citizen 'Same-Sex Domestic Partners' of U.S. Gov't Employees."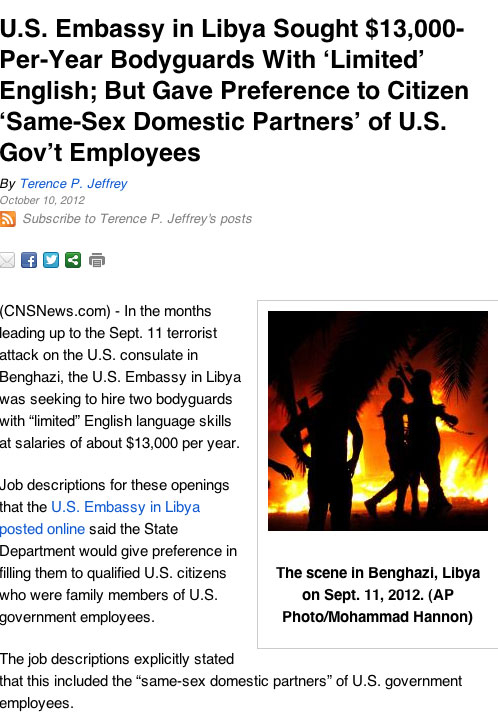 But Jeffrey's headline is dishonest. As Jeffrey notes in the article, the hiring preference is for "qualified U.S. citizens who were family members of U.S. government employees." Same-sex partners are included in that.
Jeffrey has needlessly and recklessly tainted the journalistic reputation of his "news" organization bymaking dishonest gay-bashing a priority over reporting facts. He hates gays more than he loves the truth.
Jeffrey also seems to love clicks more than the truth as well -- his dishonest story was picked up by Rush Limbaugh, which surely generated an elevated level of traffic to CNS.
How does Jeffrey get away with this? It seems that he is aspiring to the jerkass levels of his Media Research Center boss, Brent Bozell, and MRC director of media analysis Tim Graham.
Posted by Terry K. at 12:42 AM EDT