Bozell Still Threatening GOP
Topic: Media Research Center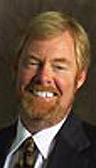 Brent Bozell is not done throwing tantrums about cutting off the Republican Party if it fails to be as right-wing as Bozell on "fiscal cliff" negotiations.
CNSNews.com gives Bozell's latest threat the attention you'd expect from Bozell's house organ, in a Dec. 4 article by Susan Jones:
One day after Boehner mentioned an $800-billion tax hike -- half the amount President Obama is seeking -- conservative activist L. Brent Bozell III said the Republican Party is no longer the party of limited government, limited spending and limited taxes:

"It is now officially exactly right behind the Democrats -- on everything," Bozell said. "It is time for conservatives to start looking for a new home. There's precious little left for us here."
Perhaps Bozell might do well to listen to one of his Media Research Center employees, Dan Joseph, who (in a showing of reasonableness unusual in MRC employees) tweeted, "Real' conservatives would have a lot more credibility and power right now if they hadn't spent the last two years calling everyone a RINO."
Meanwhile, Bozell took umbrage at another alleged criticism of conservatives, also lovingly documented by his house organ. This time, the tantrum is directed at David Welch, a former research director for the Republican National Committee, who wrote in a New York Times op-ed that "The modern-day Birchers are the Tea Party,"' and that the Republican Party should weed out "extreme, untested candidates" and "bring adult supervision to the party" the way William F. Buckley denounced the John Birch Society in the 1960s. Bozell is a nephew of Buckley's, and he did not like the sentiment, so much so that a Dec. 4 CNS article by Michael Chapman reports on Bozell's unpublished letter to the Times in response:
"He states that Bill Buckley would have linked the Tea Party to the John Birch Society, expelled it from polite company, and in its place would invite great conservative leaders like Governor Jeb Bush, Governor Chris Christie and Karl Rove to take the helm of our conservative movement," said Bozell, "because they are 'ideally suited to drive extremists from the party.'"

He continued, "Let me suggest to you what my uncle would have said instead, while laughing at Mr. Welch's proposal: 'Given that the Tea Party is definitely not the John Birch Society, we therefore do not need moderates like Jeb Bush or Chris Christie and operatives like Karl Rove running the conservative movement. They are ideally suited to be driven from our ranks.'"
If the Tea Party "is definitely not the John Birch Society," why are Birchers speaking at Tea Party events? The society has noted that "JBS President John F. McManus has spoken at various Tea Party rallies as well as at meetings of many other conservative organizations." It's also been documented that tea partiers are at least as conspiratorial as Birchers.
It seems Bozell's response stems from a faulty premise. But don't expect the "news" organization he operates to tell you that.
Posted by Terry K. at 7:05 PM EST