MRC Hypes Alleged Hunter Biden Whistleblower, Downplays That He's A Criminal
Topic: Media Research Center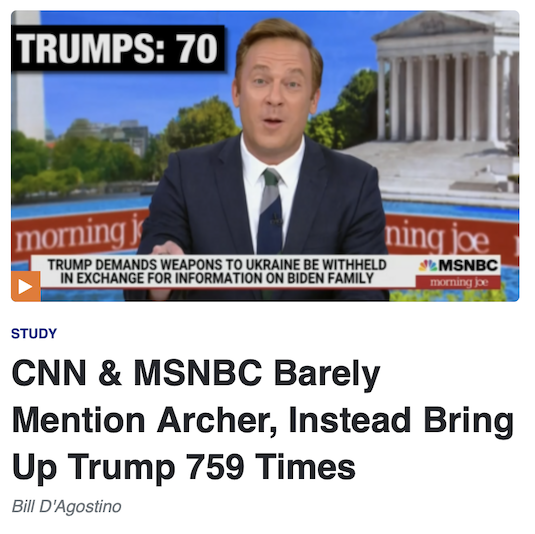 The Media Research Center loves to get mad when the non-right-wing media ignores whistleblowers who promote conservative narratives. (If you're a whistleblower who doesn't advance those narratives, however, the MRC will attack you.) And the MRC had another narrative-friendly whistleblower to tout over the summer. In a July 25 post hyping "FOUR New Biden Scandals on Burisma, Hunter's Life of Corruption" (which puts the MRC's overheated total of such "scandals" to be well over 60), Curtis Houck hyped how "The Fox News Channel's flagship newscast Special Report led Monday with this development (as would numerous FNC shows after them)" while non-right-wing media ignored it. The hype about Archer's planned testimony continued:
On the day of the planned testimony, July 31, Mark Finkelstein touted Fox News hyping it and bashed MSNBC's "Morning Joe" for not playing along with the approved right-wing narrative:
Meanwhile, over on Morning Joe, the panel trashed Trump for having alleged a corrupt Biden-Ukraine connection. Host Jonathan Lemire and Politico's Sam Stein suggested that Trump didn't learn from the experience of having been impeached over similar allegations he made.

But incredibly, while dismissing Trump's assertions,they failed to even breathe the name of Devon Archer, and the testimony he was expected to offer. Lemire made a passing, innocuous-sounding mention, of Hunter Biden having "once served on the board" of Burisma. No reference to the fact that, as NBC News has reported, Hunter and his company raked in $11 million from Burisma.
Finkelstein then alluded to a little problem with their newest star whistleblower, but then tried to build a conspiracy theory around it:
Morning Joe also suppressed the news that the Biden Justice Department made a highly unusual Saturday request to the judge overseeing Archer's conviction in an unrelated case to expedite his sentencing and jailing; presumably a tactic intended to pressure Archer to curb his enthusiasm for anti-Biden testimony.
So, according to Finkelstein, the problem with Archer is not that ie's a convicted criminal, it's that he's going to be punished for being one.
Another post that day, by Bill D'Agostino, ranted that non0right-woing cable news channels mentioned Donald Trump too much and Archer not enough:
On the day that Devon Archer, a business associate and longtime friend of Hunter Biden, testified before the House Oversight committee, CNN and MSNBC instead flooded the airwaves with their favorite topic: Donald Trump. Between 6:00 a.m. and 4:00 p.m. eastern, CNN and MSNBC made a combined 759 mentions of Donald Trump, while at the same time mentioning Devon Archer just 48 times.

During the specified timespan, MSNBC featured 461 mentions of the former President, while CNN supplied the remaining 298. Meanwhile, CNN mentioned Devon Archer only 37 times during the same period, while MSNBC mentioned him just 11 times. That's a more than 41-to-1 ratio of Trump mentions to Archer mentions for the latter network.

MSNBC's Morning Joe during the 8:00 a.m. hour somehow managed to bring up the former President by name a jaw-dropping 70 times (212 times across the whole show). Meanwhile, Archer was not discussed at any point during that program's four-hour runtime.
D'Agostino failed to provide a similar count for Fox News so there would be a point of comparison. On the other hand, his post was translated into Spanish the next day.
Another July 31 post, by Kevin Tober, whined that people on CNN didn't take Archer's testimony seriously:
On Monday afternoon, while Hunter Biden's business partner Devon Archer was behind closed doors testifying before the House Oversight Committee regarding the Biden family's corrupt business dealings, CNN host Dana Bash and congressional correspondent Manu Raju wore their profound ignorance on their sleeve with the pants-on-fire claim that Republicans have thus far put forward zero evidence showing Joe Biden's involvement in his son Hunter's business dealings.

During a panel discussion on the Archer testimony, Bash claimed that the Archer testimony is all about "whether or not Republicans can find any evidence, which they have yet to put forward, of their repeated accusation that the President, Joe Biden, had knowledge of, or a connection to Hunter Biden's business dealings in Ukraine and China."

Either Bash doesn't follow the news, or she's lying to her audience. Even before Monday's revelations from Archer detailing how involved Joe Biden was with his son, it's been heavily reported that Hunter gives his dad a cut of the money he shakes down from foreign governments. In one text message, he referred to the elder Biden as the "Big Guy" and admitted he gives him a ten percent cut.
Tober whined again in a post a few hours later:
On Monday, Hunter Biden's business partner Devon Archer testified behind closed doors before the House Oversight Committee regarding the Biden family's corrupt business dealings including a bombshell revelation that Hunter put his father Joe Biden on the phone with his business associates over twenty times. This at the very least proves President Biden's repeated claims that he was unaware of his son's business activities was a flat-out lie. Despite this, NBC Nightly News had no interest in this story. While ABC's World News Tonight and CBS Evening News covered the Archer testimony, NBC pretended it never happened.

Instead, the network ran a nearly two-minute-long segment on the U.S. women's soccer team and an interview with athlete Megan Rapinoe. Clearly, NBC's priorities were in order.
You mean like it's Tober's priority to attack any non-right-wing outlet who doesn't uncritically parrot right-wing narratives?
In neither post did Tober mention that Archer has a criminal record.
Posted by Terry K. at 9:00 PM EDT