MRC Repeats Bogus Biden 'No Comment' Claim On Maui Wildfires
Topic: Media Research Center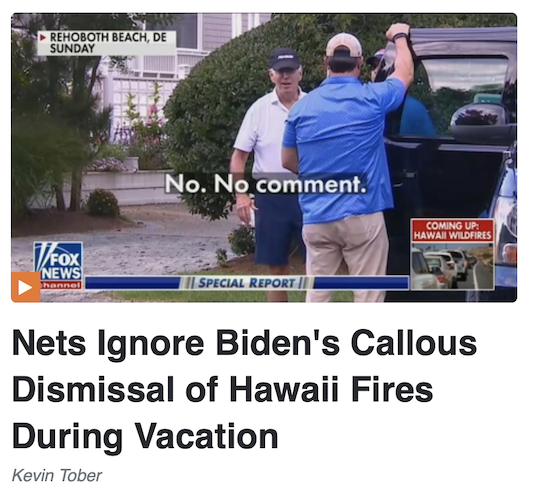 The Media Research Center's Kevin Tober was in full manufactured-outrage mode in an Aug. 14 post:
On Sunday, President Joe Biden spent another weekend on vacation on the beach in Rehoboth Beach, Delaware while the country literally and figuratively burned. While Biden was getting into his presidential limo, he was asked by two reporters for his thoughts on the rapidly rising death toll due to the out-of-control wildfires in Hawaii. Biden's callous response of "no comment" led to outrage on Twitter and elsewhere throughout the country. Despite the newsworthiness of Biden's dismissal response to the death and destruction, all three evening news broadcasts ignored it.

[...]

Meanwhile, on Fox News Channel's Special Report, anchor Bret Baier spoke to White House correspondent Jacqui Heinrich about the latest Biden controversy.

"The President spent several hours on the beach at Rehoboth Beach, Delaware yesterday," Baier said. "And when he was leaving, after that, reporters asked him about the rising death toll in Hawaii, specifically Maui, those wildfires."

After airing Biden's dismissive comments toward those killed or injured, Baier responded: "He said 'no, no comment.' And that got a lot of criticism online and elsewhere."

From there, Heinrich confirmed that "It did get a lot of criticism."

"He ran for office on his own empathy. The White House was asked today in the briefing if he had been instructed, you know, not to comment on this or if he planned to comment about it in the future," Heinrich noted.
But Tober -- and, apparently, Fox News -- censored one important fact: Nobody actually heard Biden say that. As we documented, the claim that Biden said "no comment" comes from a White House press corps pool report by Rob Crilly of the right-wing, anti-Biden British newspaper Daily Mail, who admitted he never actually heard those words but claimed that "lip readers in the pool" claimed he said it. Tober's fake outrage came as he hypocritically criticized network news for "bias by omission."
Then again, facts don't matter much at the MRC but advancing right-wing narratives do -- which is why Tober spent so much space praising Fox News for repeating this unsubstantiated attack. So the MRC continued to push this bogus narrative. It published an Aug. 25 column by Ben Shapiro citing the alleged incident to declare Biden to be an "narcissist":
This week, Biden visited Maui. He did so nearly two weeks after the worst wildfire in modern American history killed hundreds of Americans. Meanwhile, Biden vacationed in Delaware on the beach, telling reporters he had "no comment" on the situation; he then jet-set off to Lake Tahoe before finally heading to Lahaina.
Rich Noyes dutifully pushed the narrative again in an Aug. 26 post, quoting Tober in doing so:
The August 8 firestorm on the Hawaiian island of Maui took at least 115 lives, with another 388 officially listed as missing more than two weeks later. Five days after the devastation, a vacationing President Biden was asked about the horrifying death toll. "No comment," he said.

[...]

Instead of pouncing on Biden's blunders, the media politely hid them from viewers. After Biden's inexplicable "no comment," MRC's Kevin Tober found none of the three evening newscasts mentioned it amid their otherwise heavy coverage of the Maui disaster.
Nicholas Fondacaro uncritically repeated the claim in an Aug. 31 post:
While communities in Maui were being incinerated and the list of the dead continued to grow (surpassing 100 as of the writing of this piece), President Biden was publicly flaunting his storied callousness as he continued his vacation and gave a firm "no comment" when asked about the wildfires. It being election season, CNN News Center knew they needed to do something to distract people. So, on Thursday morning, they took White House talking points and claimed it was Republicans who didn't care about the people. But at no point did they provide any evidence.
Fondacaro didn't explain how Biden's alleged comment could be "firm" when nobody actually heard him say it.
Posted by Terry K. at 9:15 PM EDT
Updated: Tuesday, October 3, 2023 9:22 AM EDT