LeBron Derangement At The MRC
Topic: Media Research Center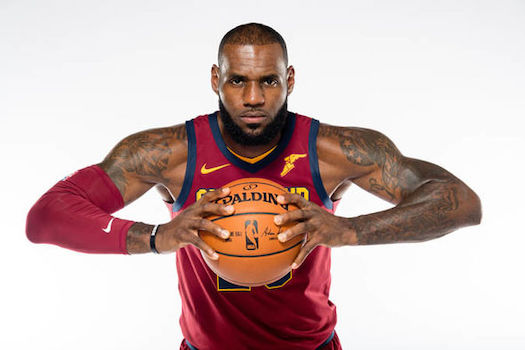 The Media Research Center is mad that LeBron James won't shut up and dribble.
Following James' interview with CNN's Don Lemon, in which he said he would never meed with President Trump because of his expressed views on racial issues, the MRC's Alex Sears declared that "James has been ridiculed for his political hot takes" and lamented that "he refused to harbor the idea that a sit down with the president would be a good thing. For someone who considers themselves knowledgeable enough to comment on politics, he sure doesn't see the benefit in reaching across the aisle."
Then, Scott Whitlock was upset that another media outlet reported what James said, framing it as the outlet having "touted James' attacks on Trump."
Krstine Marsh ranted further about the Lemon-James interview, complaining that "Lemon kept provoking the athlete to attack Trump, from his border policy to his comments on the NFL anthem protests," then huffed that in a later CNN panel discussion, "Lemon and his panelists then raged against the right for claiming that journalists or any public figure had to be "one-dimensional" and not comment on anything unrelated to their field of work." Yet that's exactly what the MRC is doing here.
Because pro athletes who espouse anything other than conservative politics is an exploitable issue, MRC officials Tim Grahm and Brent Bozell weighed in, attacking James for refusing to meet with Trump: "Pro athletes are free to make that choice, and they feel they should be immune from criticism for making it. Oh, to be coddled like that." Funny, Graham feels that way about anything Trump does.
Graham and Bozell then took a dip into Kaepernick Derangement Syndrome:
[A]thletes can often be divisive – and have recently relished that role – whether they demonstrate a lack of sportsmanship, or get on the wrong side of the law, or they feel they need to use their fame to score political points that offend so many.
Why must the Left always try to create the often false impression that conservatives divide, and they unite? The national anthem, for example, is a time when conservatives call for unity. The kneelers are the original dividers.
When Trump attacked both Lemon and James in a tweet, specifically attacking Lemon's intelligence -- which brought claims of Trump repeated denigrating the intelligence of blacks -- the MRC went into defense mode: Nicholas Fondacaro declared "attacks on intelligence were something Trump preferred to use on African-Americans, it was actually something he has used on a lot of people," and he attacked in a later post the "false assertion that the President reserved insults of intelligence to African-Americans."
Even the reason for James' media tour -- his funding of a school for underprivileged students in his hometown of Akron, Ohio -- couldn't escape criticism, though you'd think such a philanthropic effort might be worth a little praise. Jay Maxson sneered that "James said his funding of the school comes with political strings attached. He endorsed Clinton two years ago and he shilled for ObamaCare; wonder how he leans?" sarcastically adding, "These young children should do well in political science class." He then attacked the media for placing the school James funded "on a pedestal before the first report cards have been issued. Time and longitudinal studies will demonstrate the efficacy of this approach to education."
That sure didn't stop Maxson from attacking James for opening his school, though.
Posted by Terry K. at 9:03 PM EDT